Super Mario Party Release Date, Gameplay, Trailer, Story, News
Updated: 13 Sep 2018 9:44 pm
Your friendships have lasted through the first 15 games, will they last through another?
Super Mario Party Release Date, Gameplay, Trailer, Story, News
The time to test your friendships is upon us! Super Mario Party will be joining the Nintendo Switch library this October.  Some fans may not be aware of the current news on the game, so this article is here to satiate any fan's Mario Party needs.  Now let's act like Mario and jump up into some news about the game, as well as some facts that fans may not know quite yet.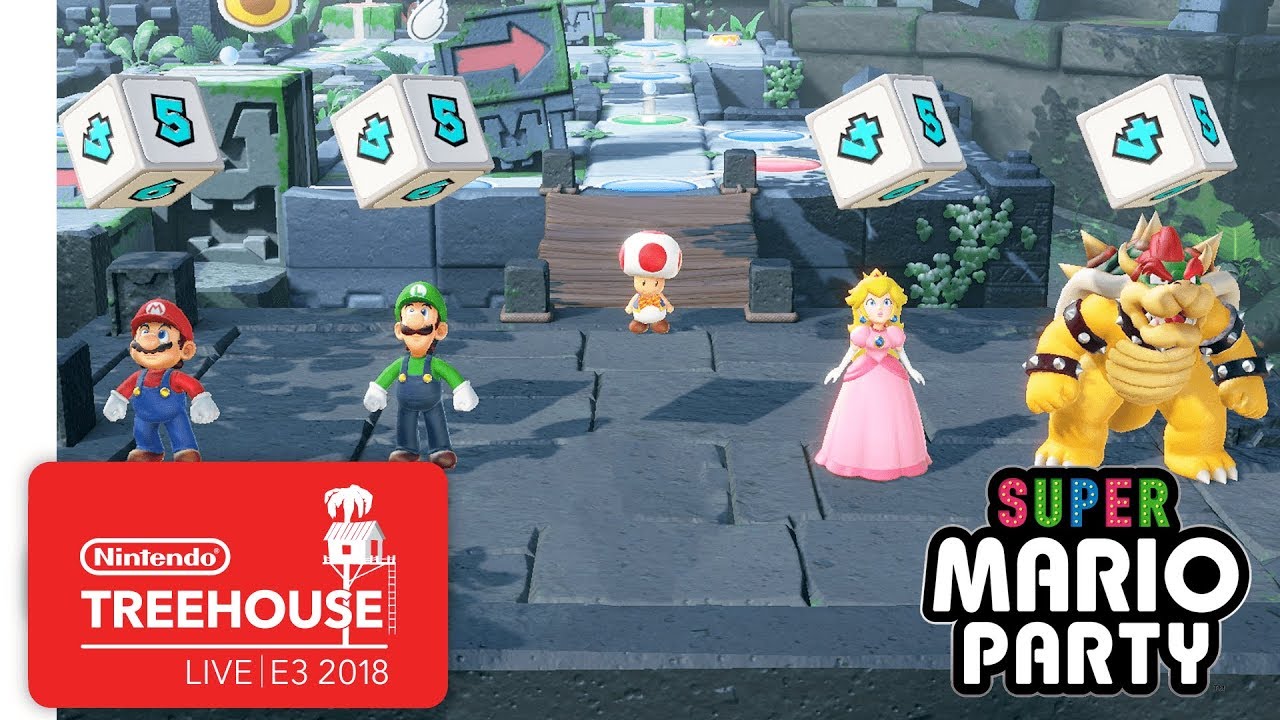 Can't you see the tension in this photograph?
Super Mario Party Story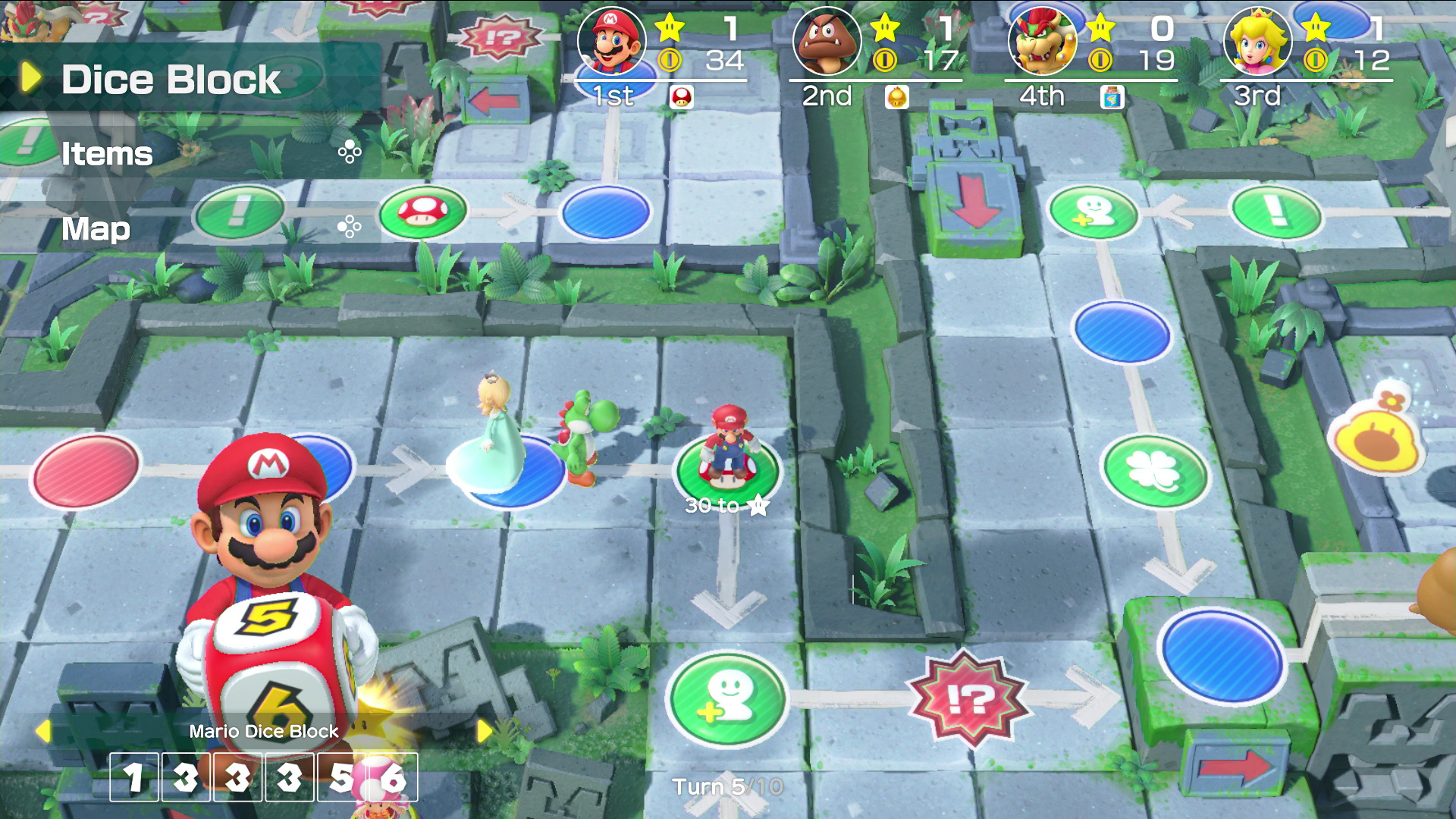 Super Mario Party follows old Mario Party tradition and returns to a turn based free-for-all to snag the most stars.
Super Mario Party itself has no story campaign, just like many of the other games in the franchise. However, it will follow the core mechanics of the other games in the hyper-competitive twenty year-long franchise, as well as add new ideas for both new players and old fans to enjoy.
Super Mario Party Release Date
Super Mario Party has already excited fans since it was revealed at E3 2018.  So much gameplay has been shared to YouTube already, and speculation videos have appeared like coins and question mark blocks. 
IMDb states on its page for Super Mario Party that the game's director is Goro Abe, who is also known for his work on the Wario Ware games. A perfect match for another game franchise filled with minigames!  Super Mario Party is slated to release on October 5, 2018.
Super Mario Party on PC
Unfortunately for those who prefer PC over console, there will be no way to legally play Super Mario Party without a Nintendo Switch.
Playable Characters
Super Mario Party is not going to cheap out on playable characters, as it is currently stated to have a twenty character roster.  This means that Super Mario Party has the largest cast of characters in Mario Party history!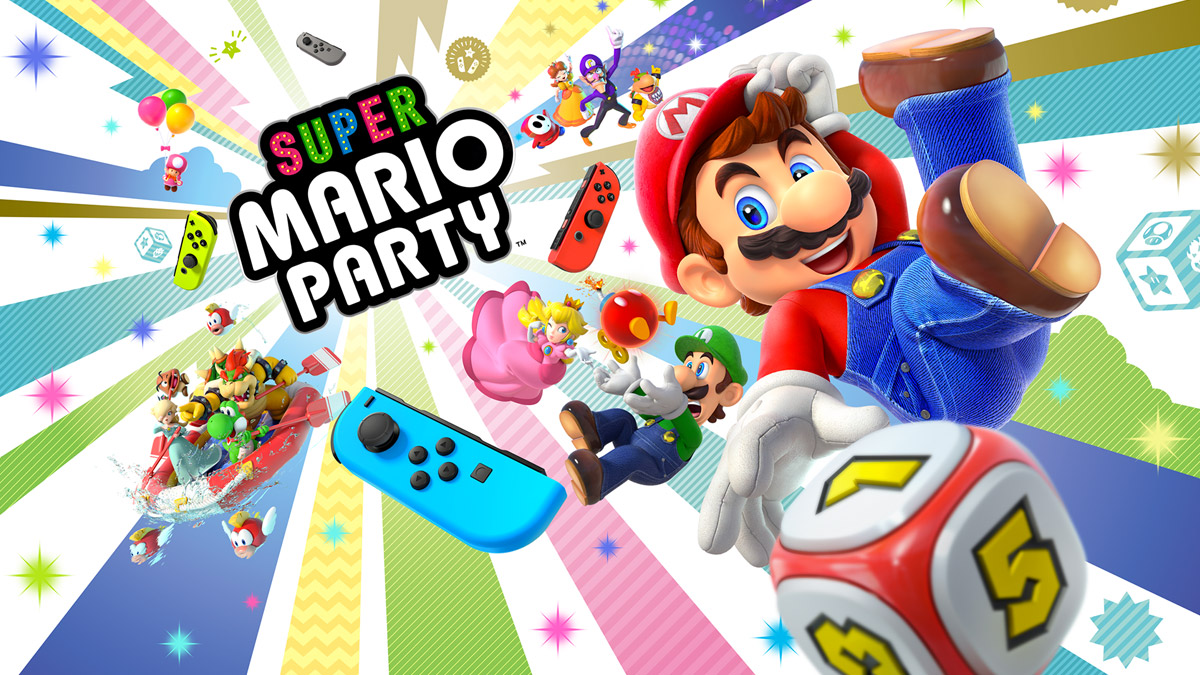 Super Mario Party sports a flashy new style with a boatload of interesting characters (pun very much intended).
The returning roster includes:
Mario: Of course. The titular title character of the game among many more.
Luigi: The sidekick so iconic, he makes Dick Grayson look like a boy scout.
Princess Peach: Damsel in distress in most games, out for blood in this one.
Princess Daisy: Peach's tomboy counterpart who only shows up for party games.
Rosalina: Not a princess, and doesn't need to be rescued.
Yoshi: Not giving free rides in this game. Yoshi is hungry for victory!
Donkey Kong: Unplayable from Mario Party 6 through 10. He's finally back to kick some tail.
Wario: Mario's "bizarro" counterpart.
Waluigi: He may not have made it into Smash Bros. but he'll always have tennis.
Bowser: Second go at being playable. Sometimes it's just good to be bad.
Koopa Troopa: Slow and steady wins the race!
Dry Bones:  Bad to the bone (da na na na na).
Hammer Bro: The bane of any classic Mario fan's existence is playable. Yay…
Boo: He's willing to fight to the death for those stars. Scary.
Shy Guy: Guy so shy, he only shows himself at party games nowadays.
New playable characters include:
Bowser Jr.: Move over Koopa Kids! Oh wait is that reference outdated?
Diddy Kong: It's about time the DK crew got some recognition!
Pom Pom: Because Boom Boom was forgettable, even in 1988.
Goomba: How does he hold a frying pan in the cooking minigame?
Monty Mole: Here to throw a wrench into your plans to win.
Super Mario Party Gameplay
As mentioned before, Super Mario Party is a party game follows its ancestors regarding gameplay, and story.  It is still a game where four players roll dice and play minigames to win coins, and buy stars. There may be no story, but it is a game purely meant for the journey and not the destination.
Most avid gamers scoff at such a concept, but Super Mario Party seems to notice this.  The game has introduced a character specific dice block option to give each character their own possible advantages and drawbacks on the game board.  Items can be used tactically to bring a character closer to the lead or keep them in first place.  In addition, this will be the first Mario Party to include online play, so a competitive player, or just someone with no friends, can play with others and display their Mario Party skills to the world! And Nintendo got rid of the car-gameplay from Mario Party 9 and 10!
The ally system makes a return where other Mario characters can help players out along the way.  And these are all just on the game board! There are 80 minigames in Super Mario Party, many of which are using the HD rumble feature of the Nintendo Switch Joycons.  Similar to the Wii remote's function in more recent entrees in the series, the Joycons will utilize motion control for some of its minigames.  Sometimes the player will have to quickly tilt the controller from side to side to win a tricycle race, and other times players will have to flick the controller to evenly cook a cube of meat.
Some games can even be played on the Switch tablets themselves. There is a game where the Switch Tablets must be placed next to each other so that they make a picture of a banana together, and one where one can set up a battlefield and shoot each other with tanks.
Super Mario Party Trailers
Super Mario Party was revealed through a trailer at Nintendo's E3 Presentation on June 12, 2018.  No other trailers have been released at this time.
Many gameplay videos have been uploaded to YouTube however, so anyone who wants to see how the game looks can do so with ease.
Super Mario Party Developer
Super Mario Party is being developed by Nd Cube and published by Nintendo.  Nd Cube is a subsidiary of Nintendo founded on March 1, 2000, and is the company responsible for many of the latest entries in the Mario Party franchise.  They were also the developers for some other Nintendo franchise games such as F-Zero: Maximum Velocity for the Game Boy Advance, and Animal Crossing: Pocket Camp for iOS and Android devices.
Super Mario Party News
Super Mario Party will be releasing with a limited edition green and pink Joycon bundle.  The neon green and pink colors fit thematically with the new, colorful, and flashy aesthetic the game has.  The Joycons will be packaged with a physical copy of Super Mario Party, thus making it a perfect item for a Nintendo collector's list! The bundle however, is only confirmed to be released in Europe at the moment.
Another bundle is going to take place in Nintendo's UK store, where a physical copy of Super Mario Party comes with a question block lamp.  Super Mushroom, Goomba, and Boo lamps are sold separately for £11.99.
A new mode was recently revealed for the game call River Survival Mode.  It is a four-player cooperative mode where each player uses a Joycon to determine the direction in which a shared raft goes down a river.  The river has hazards and enemies to avoid so that you can reach the end within a given amount of time.  Clocks can be collected on the river to add to the timer, as well as balloons that initiate cooperative minigames that add to your timer depending on how well everyone can work as a team.
Anyone who is definitely getting the game can now preorder it digitally on the Nintendo Switch eShop.  Doing so will warrant double My Nintendo Gold Points, that can be used to buy even more Nintendo Switch games once the game is released.
Bowser remains a playable character since his introduction as one in Mario Party 10. He usually takes an antagonist role throughout the series, even in Mario Party 10, but now it appears he is purely a selectable character.  Toad has reverted back to being a host however, as he was in the early Mario Party games.
Are you excited for Super Mario Party?  Preorder it today, or look for it in stores on October 5.
You may also be interested in:
Image Gallery