October 27? I'm Sure you must mean the HELLO HALO day!
Updated: 19 Sep 2015 5:01 pm
 Halo 5 is getting closer and closer, October 27 marks a special day on the calendars of many long-time fans, and for a good reason too, that's when the game is going to be launched! 
Announced since May 2014, people have been long awaiting the chance to finally play this, Halo: The Master Chief Collection gave people exclusive access to Halo 5's multiplayer beta, that was all fun and (pardon the pun) games, but people want to real thing.
Halo Hits the TV's! 
Turns out that even Steven Spielberg recognized the epicness of the game, the man himself is producing a TV series that is set to air in 2015 in conjunction with the game's release.
 Changes & upcoming features/content.
 Unlike previous first-person shooters in the Halo franchise, it was confirmed by 343 that Halo 5: Guardians will not feature any offline capabilities; including local splitscreen for campaign co-op and multiplayer and will not have any offline local networking options
 The removal of split-screen play has started quite the fired debate on the internet, most fans being seriously pissed-off about the change, some even started petitions in order to bring it back. Not sure how that one's gonna turn out, but hey, good luck to you, split-screen lovers!
 Warzones and PvP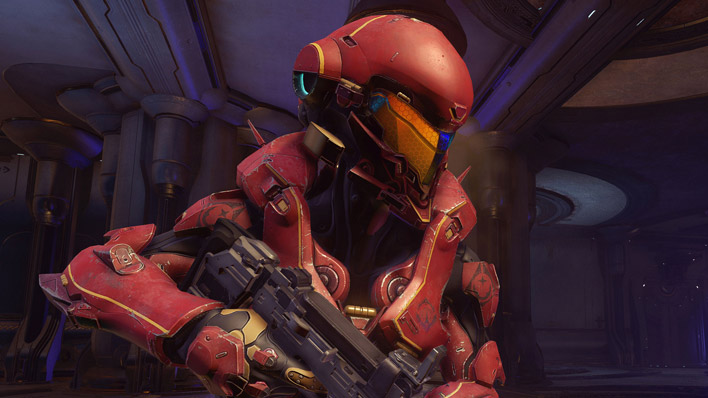 Microsoft's 2015 E3 press conference brought us more gameplay samples of Halo 5, the gameplay was from a mission named "The Battle of Sunaion" and featured Fireteam Osiris. A new type of multiplayer mode knows as "Warzone" was also shown at E3. 
Warzone will combine PvP (Player-Versus-Player) And PvE (Player-Versus-Environment) gameplay. There will be 12 players on each team, and there will be enemy Covenant and Promethean AI's (artificial intelligence) as well as bosses. First to get to 1000 points will win. If on the other hand your team is "points-lazy", you can also win by capturing all 3 main bases, the enemy team's "Core" located in their base will become exposed, thus being able to be destroyed. That will basically remind most people who have played World of Warcraft of the Strand of the Ancients battleground, except for the points thing, it seems to be pretty darn similar, and that's good, because it was one of the most fun battlegrounds to play.It's also been stated that the maps in Warzone will be 4 times larger than any previous Halo map.
Image Gallery