E3 Was Attended By Over 70k+ People In 2016
Updated: 10 Jun 2017 10:01 pm
Every major player in the gaming world is at E3 showing off their latest developments.
Video games are on the rise
E3, the most anticipated gaming venue of the year, has broken record viewership and attendance from fans all over the world in 2016, as over 70k people participated in the week's events and over 42 million people live streamed on streaming sites such as Twitch and Youtube.
With such a vast gaming market, E3 is the go-to place for developers to get exposure on their latest games. And with so many fans tuning-in or engaged in live participation, the games and platforms that are unveiled there definitely get noticed by the gaming community.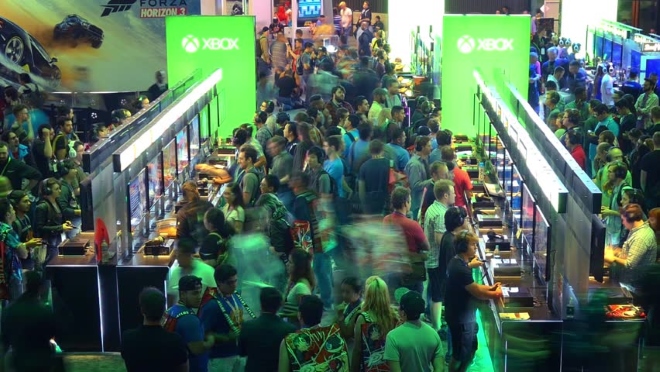 With a demo around every corner, it's no wonder why E3 attracts a huge crowd to test their new games.
Tune-in from anywhere
Physically going to E3 is no longer the only way to participate in this venue. With so many streaming websites out there, it is possible for people to tune in from anywhere around the world.
With video games becoming more and more popular every year it's no wonder that people tune-in to the go-to gaming event of the season. And with sites like Youtube and Twitch, you don't even have to watch it live, you can simply watch it later as it is saved on their websites. 
Best Cinematic Trailers of E3 2016
It's no wonder why E3 generates so much hype and excitement.
Anticipation is key
E3 is the world's biggest gaming event, demonstrating gameplay for upcoming games and usually unveiling never seen before footage. As there are a lot of anticipated games coming out every year, it is safe to assume that E3 is the place where most people get on board the hype train.
The venue not only unveils new games or gives some more exposure to existing ones, it also unveils new platforms in the gaming world, such as new VR headsets or the future iterations of consoles.
Because of all of this, E3 generates a lot of hype as visitors may try out its gaming demos and new consoles and view video game footage before anyone else. And with the venue now being streamed live through so many services, this in turn attracts a massive crowd, which also, in turn, boosts pre-order sales and general awareness about new additions to the gaming market.
Check out these other cool articles:
What To Expect At This Year's E3
What We Know About E3 2017
10 New PC Game Releases We Want To See at E3