Ark: Survival Evolved is coming!
Updated: 13 May 2015 1:20 pm
Experience the thrill of riding your own pterodactyl
Get up close and personal with dinosaurs 
You might have hunted dinosaurs in other computer games, but have you ridden one?  We can't wait to get our hands on independent game developer Wildcard Studios' open-world dinosaur game Ark: Survival Evolved.  Here's the awesome trailer that Wildcard Studios is using to whet our appetites:
Experience the visceral fear of being devoured by a dinosaur...or just of being crushed to death by its tail!
Ark: Survival Evolved promises a brand new perspective on the dinosaur era, using new technology virtual reality techniques to really capture the scale, size and sheer power of dinosaurs. Using the Oculus Rift virtual reality (VR) head-mounted display, users will be able to fully emmerse themselves in a world where your character emerges broken, starving and naked on a beach, running for shelter.  The first thing to do is find food, then comes hunting, harvesting and crafting tools to protect yourself from the many dangerous animals and fierce weather events around you.  Ark is fabulously detailed, with over 60 species of animal (including Dodos!). The game's founder comments "All creatures in ARK have their own living ecosystems, predator hierarchies, and an autonomy that exists outside of the players' influences."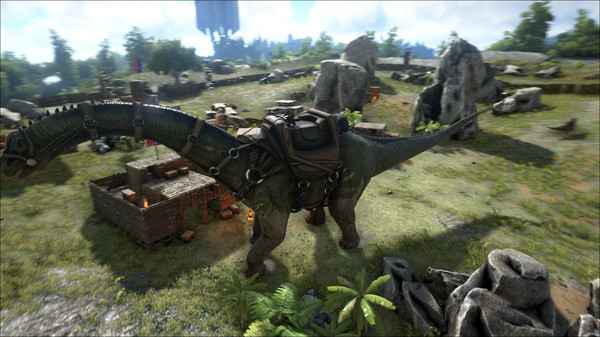 Dinosaur complete with saddle
Ark combines elements of survival games, multiplayer cooperative games and the competitive.  It also has a rich fantasy story world.  You can tame dinosaurs to help you survive and beat the rival tribes seeking to destroy you. The attributes of the world move smoothly among the prehistoric right through to the space age, as sophisticated spacecraft manoeuvre in the air above the dinosaurs. As the studio's founder and art director, Jesse Rapczak, says "ARK isn't just about survival, we are injecting a lot of mystery and exploration into the game to allow you to unravel the backstory and the end game at your own pace!"
Rapczak himself is a veteran game player.  He enthuses about this game, saying "I can tell you with good confidence that not much compares to soaring over the jungles and mountains of ARK's islands on the back of your very own pterodactyl."
Fans will be keen to know that an early access version of the game will be released on 2nd June 2015.  It's not clear whether this initial release will support Oculus Rift or if this is something to look forward to in the full version launching in early 2016. ARK: Survival Evolved is coming to Xbox One, PlayStation 4, and PC.
On the PlayStation Blog, Rapczak said "From the earliest stages of our development we knew we had an opportunity to create a game that pushes next-gen gameplay experiences in addition to providing awesome visuals,"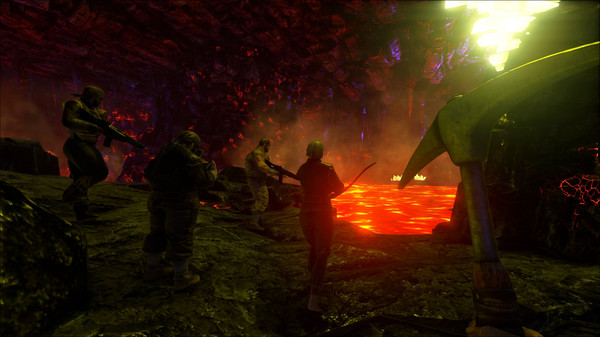 Please don't throw me in there - its going to look terrifyingly real with Oculus Rift
"The result is that the world of ARK and its inhabitants feel like a real place that you can walk through, explore, and truly experience in your own way.  While Ark is primarily multiplayer-focussed, you can play alone too, on a hosted server.  Wildcard is aiming for over 64 simultaneous players.
Get early access here.
Image Gallery