The 10 Best Gaming Chairs to Protect Your Spine and Back from Injuries
Updated: 13 Apr 2017 2:31 pm
Back problems aren't just for Christmas.
Disclaimer
Your office chair is serious business, whether you're a hardcore gamer or work from a PC most of the day chances are you will spend hours sat at your desk. If that is true for you, then you are at high risk of permanent back injuries like Herniation or slipped disks that never properly heal.
Because we care about you, it's important to make sure you get the most out of this list. So, before we begin here are a few tips to make sure you purchase the right chair for you.
You should never purchase a chair online, by all means do your research online but you should always try the chair for yourself before you buy it
When you try a new chair, take your time. Sit on it for at least 15 minutes to see how your body responds. Is it comfortable, does it cause any pain?
My dad always used to say there were two things you should never cheap out on, your mattress and your shoes. The logic being that anything you well spend a lot of time using, should be of decent quality for the sake of your health. Buying a chair is no different, this is a long-term health investment so we do not recommend buying cheap as it could cost you thousands of dollars in hospital visits in the long term.
So now you know our chair purchasing tips, let us show you our top 10 recommend chairs to safeguard against back injuries.
10: Modway Articulate Black Mesh Office Chair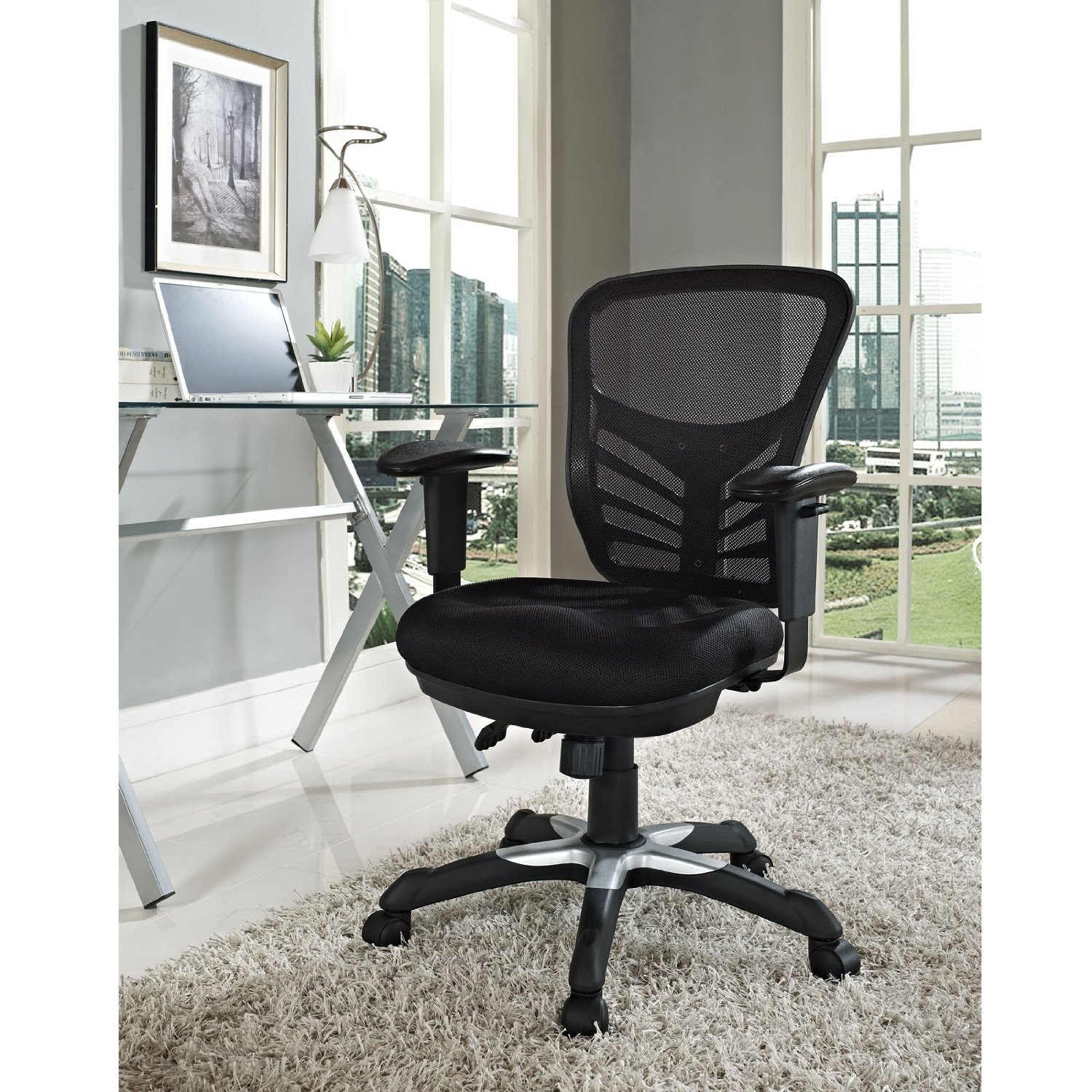 Available in a range of colours and for a great price, this is a great chair for PC Gaming fanatics.
Our first recommendation is the Modway Articulate Black Mesh Office Chair, highly customisable and stylish this is an excellent mid-market option for those who need the right support. Starting at $126 and available in a variety of colours, this chair is highly acclaimed and perfect for gamers. No matter what colour your shines, you can now get a matching chair that also provides high quality ergonomic back support as well.
9 Constructor Studio Tribeca Ergonomic Chair with Armrest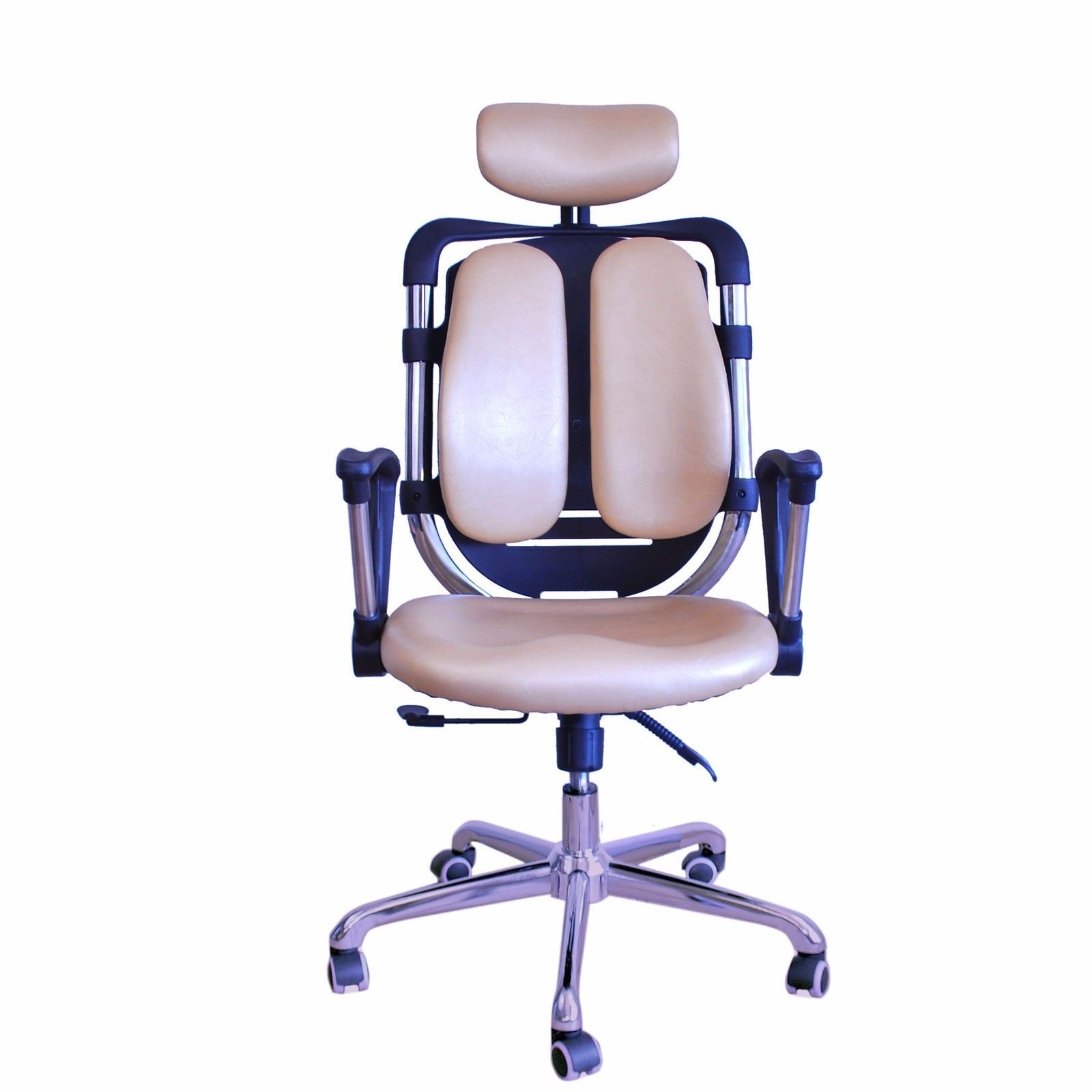 Durable and stylish, the Tribeca is a winner.
Perfect if you're 6ft or above, the Tribeca ergonomic chair is ridiculously comfortable and features a sturdy aluminium alloy frame. This model comes in at less than $225, which puts it on the more afford end of the spectrum, as well as coming in four different colours that are guaranteed to match your style.
Oh, did we mention that the chair fabric moulds to your shape? That's not all. One of the best features of this chair is the easy to clean material, which helps it look continually new, something that chairs that take a lot of wear and tear normally struggle with.
8: FM 24-Hour Ergonomic Upholstered Task Chair with Arms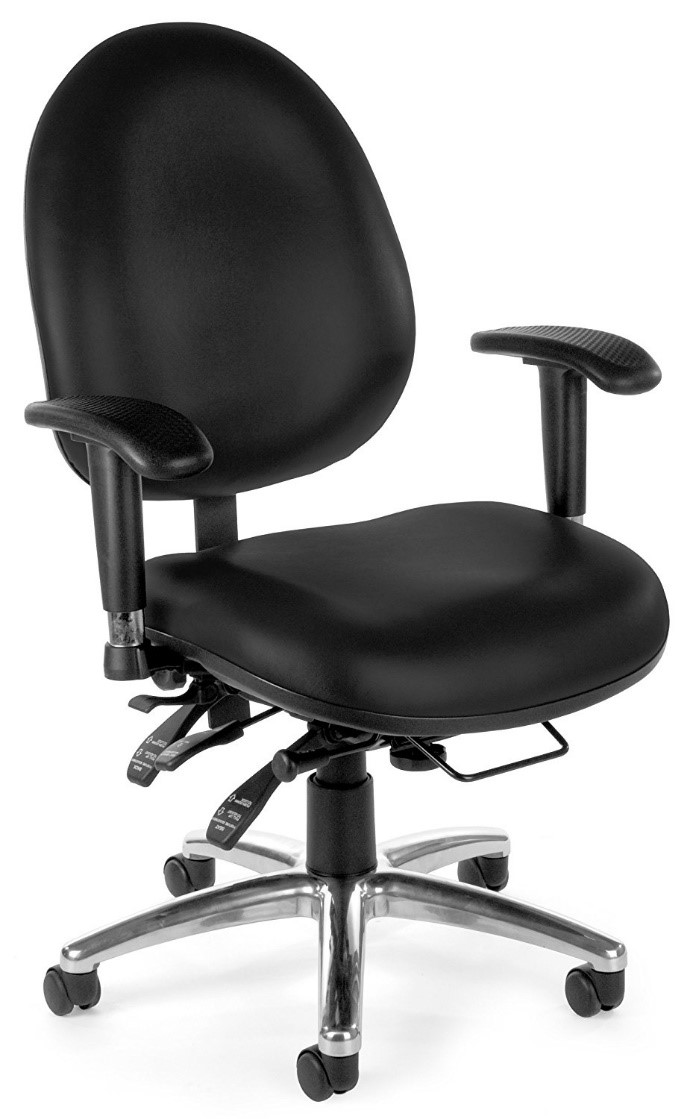 The thick cushioning on this chair provides excellent back and lower body support
You might think I love this chair because it's sleek and durable, or maybe because it's comfortable and soft. You could even think I love this chair because it's designed to carry someone like me that is both tall and heavy. I guess you'd be partially right, but the real reason this chair comes recommended is that it offers all that, but with an excellent lifetime warranty. As someone that used to go through a different chair every 8 months or so I cannot stress how important that is if you're making a serious purchase like this.
It's not cheap at just under $300, but in this case, you get what you pay for.
7: WorkPro Commercial Mesh Executive Chair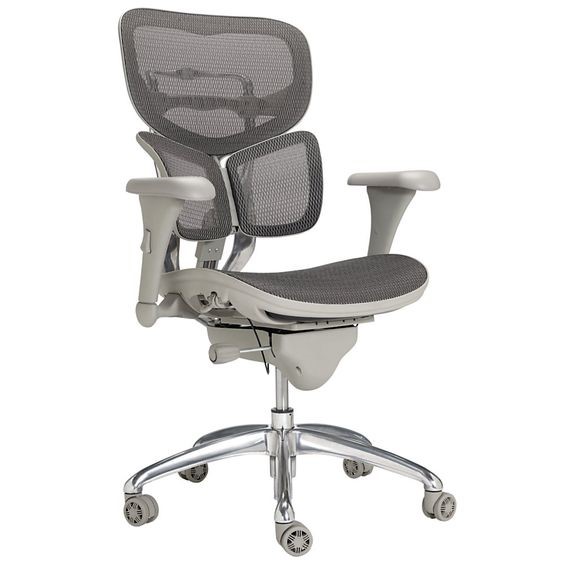 This chair looks like something out of a dystopian sci-fi flick, need I say more?
Fantastic lower back support and incredibly sturdy design make the WorkPro Commercial Mesh chairs a guaranteed good buy. If you're worried about the life of this purchase then this is a good chair to try out. Not only is the build quality fantastic, it also comes with its own lifetime guarantee as standard.  Not too bad for $350.
6: Office Factor Executive Ergonomic Office Chair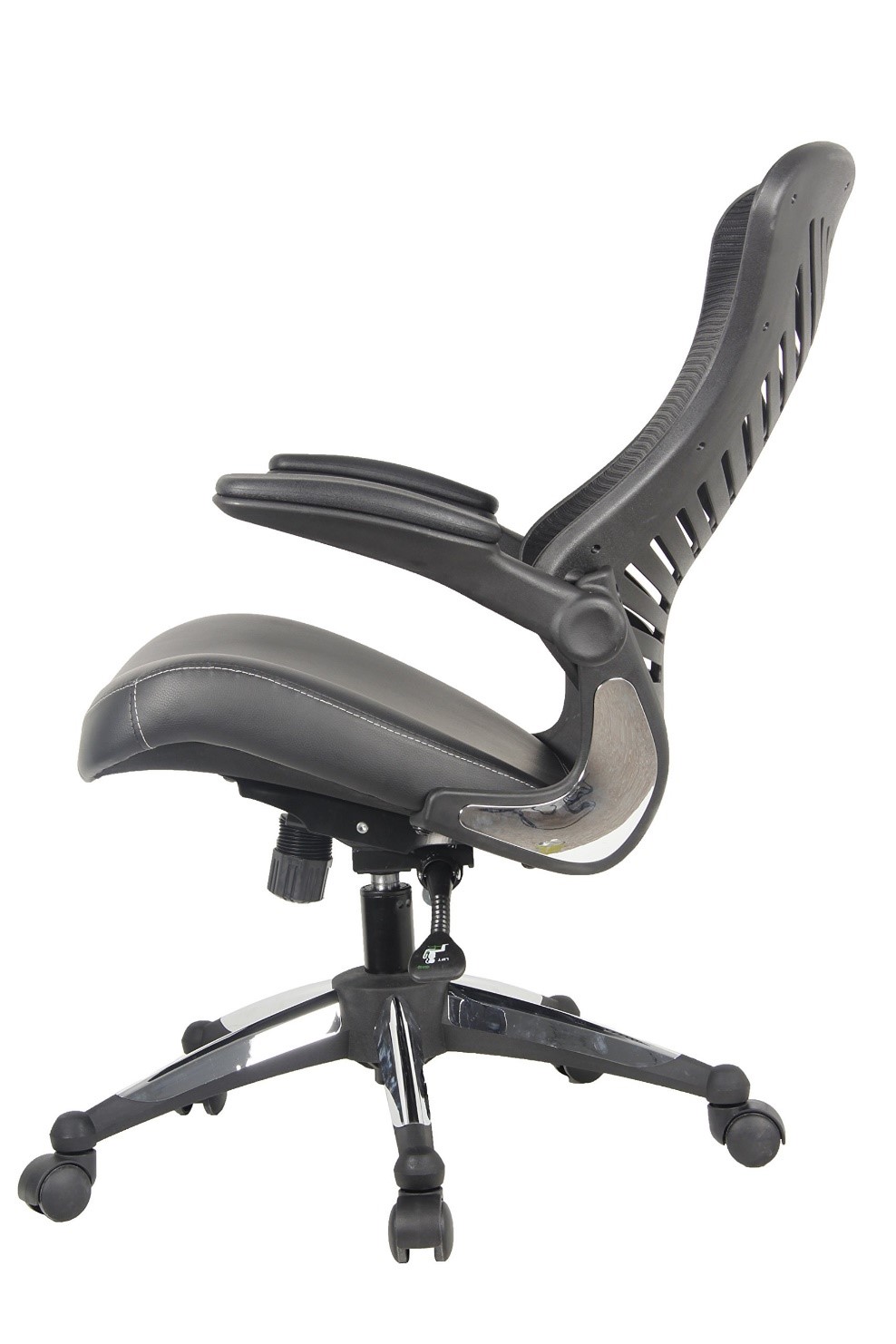 Cool and functional, this one won't break the bank or your back.
The office factor executive ergonomic is incredibly stylish and like the other chairs in this list is a fantastic choice for anyone worried about back problems, while the lack of adjustable headrest can be an inconvenience for taller people, the overall comfort and sturdy build more than make up for it. My only gripe with this one is the lack of height adjustment on the arm rests, but if that isn't an issue for you then definitely give this one a try. This is also a good one if you're not looking to spend a lot, but still want a quality product. With an RRP of $229, it's in the more affordable range yet still manages to deliver a good experience.
5: HON VL702 Mesh High-Back Work Chair for Office or Computer Desk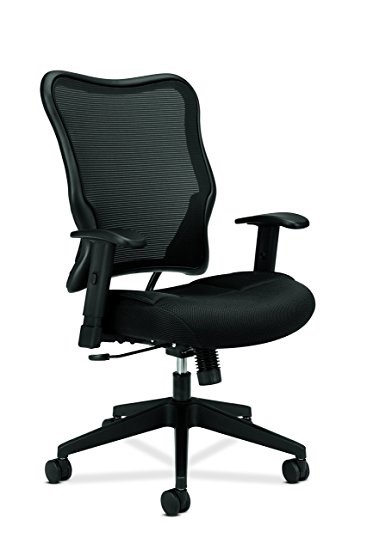 Assembly can be an issue, but it's hard to say no to such great lower body support.
This is another chair with full warranty included. Currently available on Amazon for half the retail price, this chair may look a little outdated but it's still a great buy. My only gripe with this chair is that assembly can be a little tricky, but if you can get that right then it's great for any lower back problems.
4: Herman Miller Aeron Chair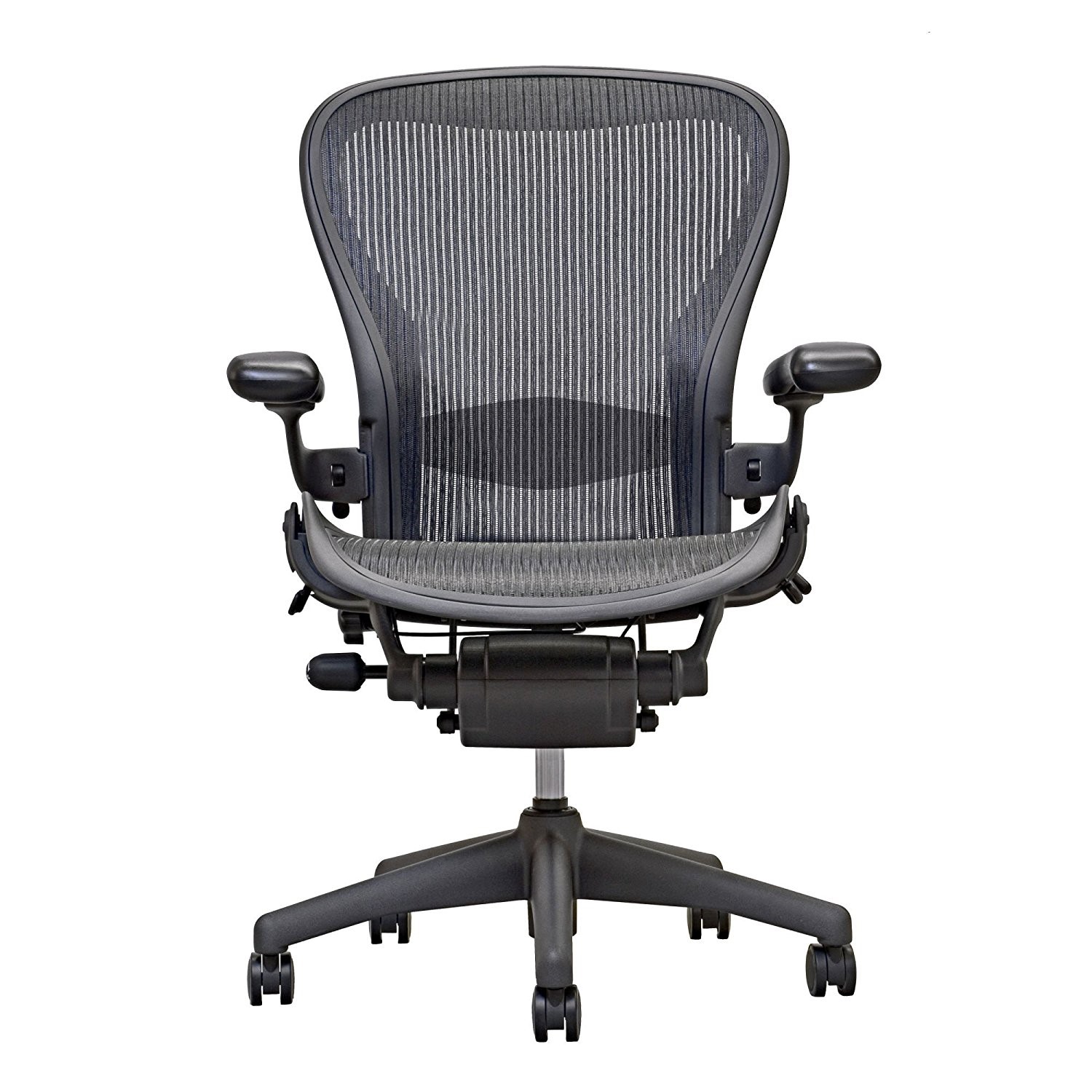 Herman Miller are right towards the top end of the market, with the Aeron it's easy to see why.
The Herman Miller Aeron Chair is one of the best on the market, it's durable, unbelievably comfortable and the positions are completely customisable. With a 10-year warranty and a good reputation for quality chairs, you're not going to go wrong with this one. However, as always, quality comes at a price. If you want the headrest then you will have to buy that separately on top of the $650 price tag for the chair. If you're like me and that number gives you the sweats, then pass.
3: Essentials Swivel Armless Mid Back Mesh Task Chair - Ergonomic Computer/Office Chair (ESS-3020)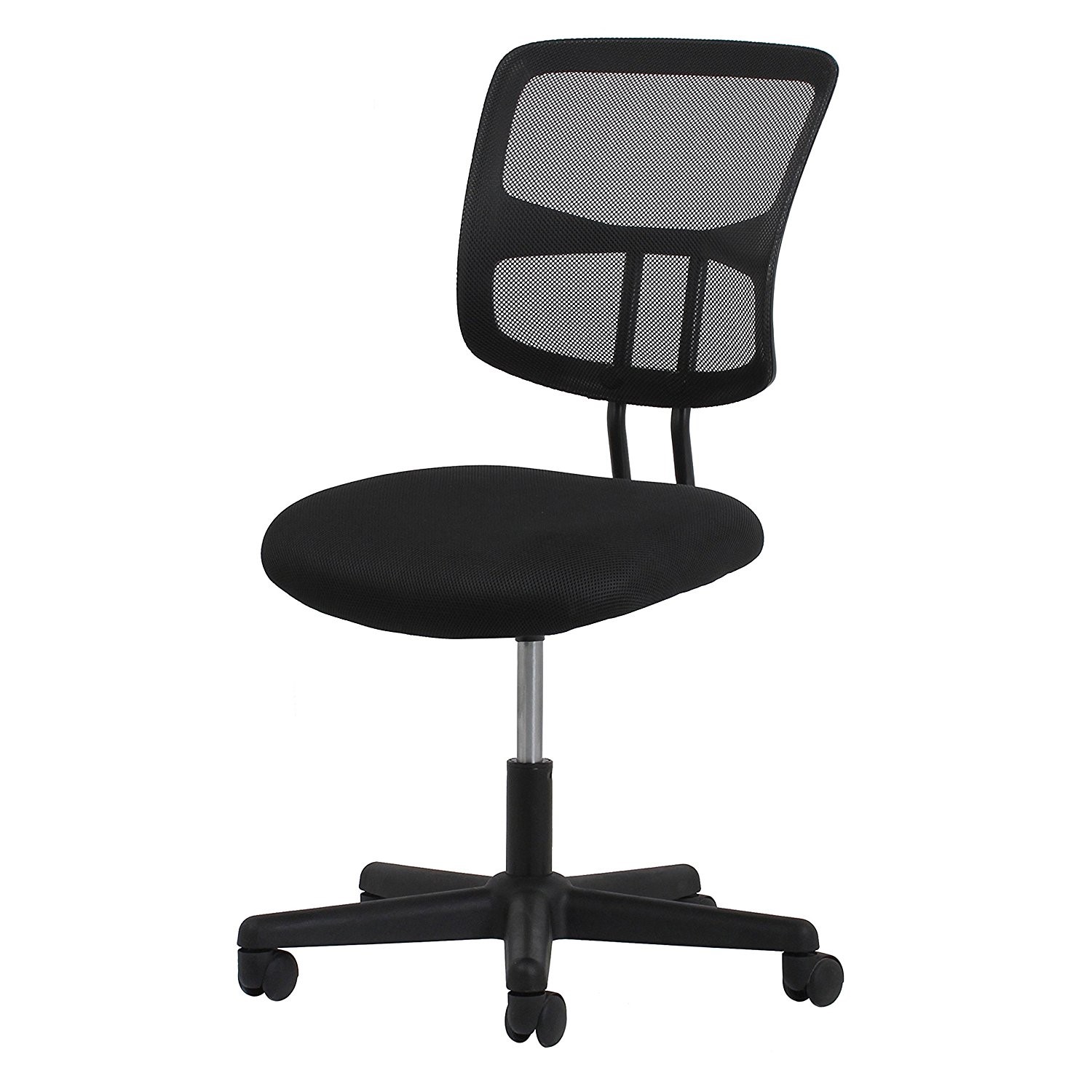 Incredibly well priced, yet still with good support. What it lacks in durability it makes up for in replaceability.
By now you're probably thinking, "oh my god, how expensive are all the chairs? Do I really have to pay this much to avoid back injury!?" Or something like that. Well not necessarily! While it lacks the arm rests, fancy features and guaranteed durable build of some of these other options the ESS-3020 still manages to provide excellent back support. Did I mention that it's less than $60? Durability becomes less of an issue at that price point, but I stick to my original warning. If you can afford it, then you really should consider paying more for the sake of your health.
2: DUOREST DR-250G Leaders Office & Desk Chair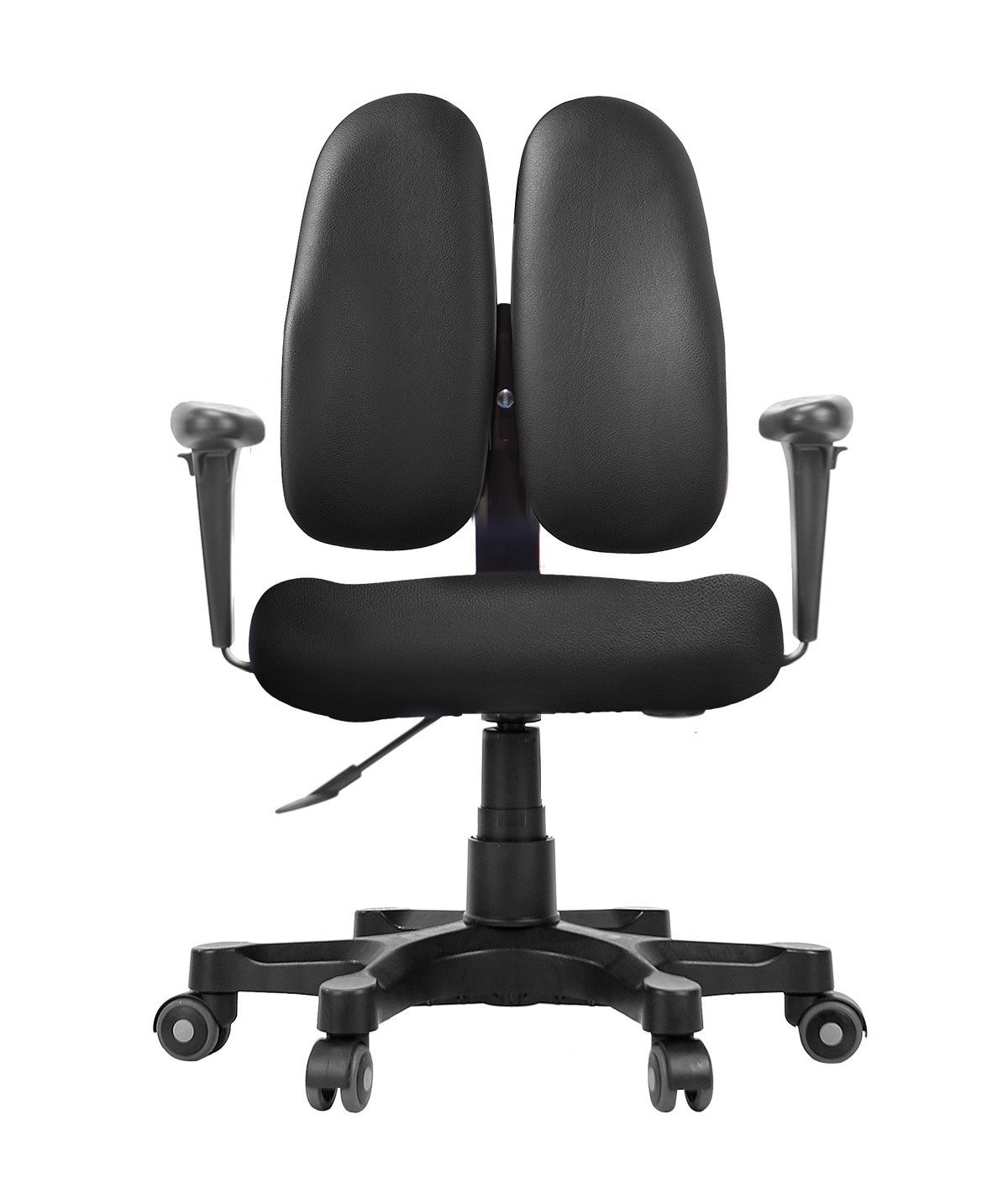 Great for high strain use, or for those who need the top end of ergonomic design.
The DuoRest DR-250G is stylish, easy to assemble and provides excellent back support despite the unusual design. Available for $300 online, this chair isn't for everyone but if you need something that is going to provide high quality support for heavy weight then you should try look for the chance to try this one out. You might just be surprised at the quality on offer.
1:  DUOREST Chairman, Executive Chairman Ergonomic Desk Chair with Adjustable Headrest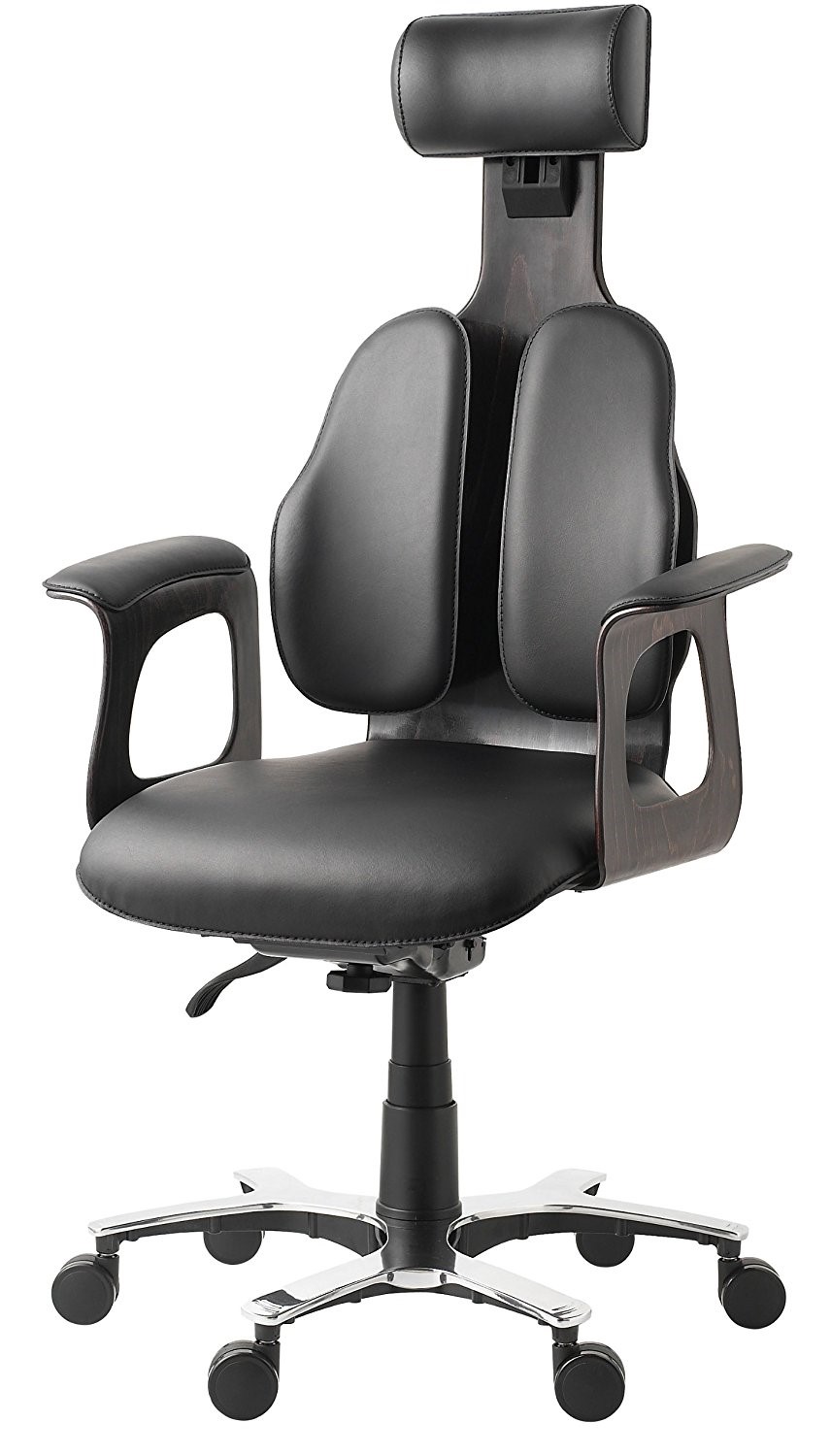 I've been waiting for you, Mr Bond.
You made it with us to the end, Awesome! Because we saved the best for last.
The 'Chairman' (I couldn't make this up) offers the best of everything available. It has excellent, durable build quality with modern, incredibly comfortable upholstery. It's ideal for anyone tall or short, and is tested for weights up to 300kg. The design its self is entirely built around customisation and quality back support. My favourite part of the chairman is the material, DuoRest uses unique water based bonding technology to make the chair softer, and the leather less prone to static.
It's not currently available on amazon, but keep your eyes peeled!
If you liked this article you may be interested in these as well: