[Top 10] CS:GO Best Agents - Here's Who You Should Choose
Updated: 30 May 2022 11:04 pm
One of the many agents up for hire.
Find some of the top CS:GO agents in 2022 and beyond.
10. Street Soldier | Phoenix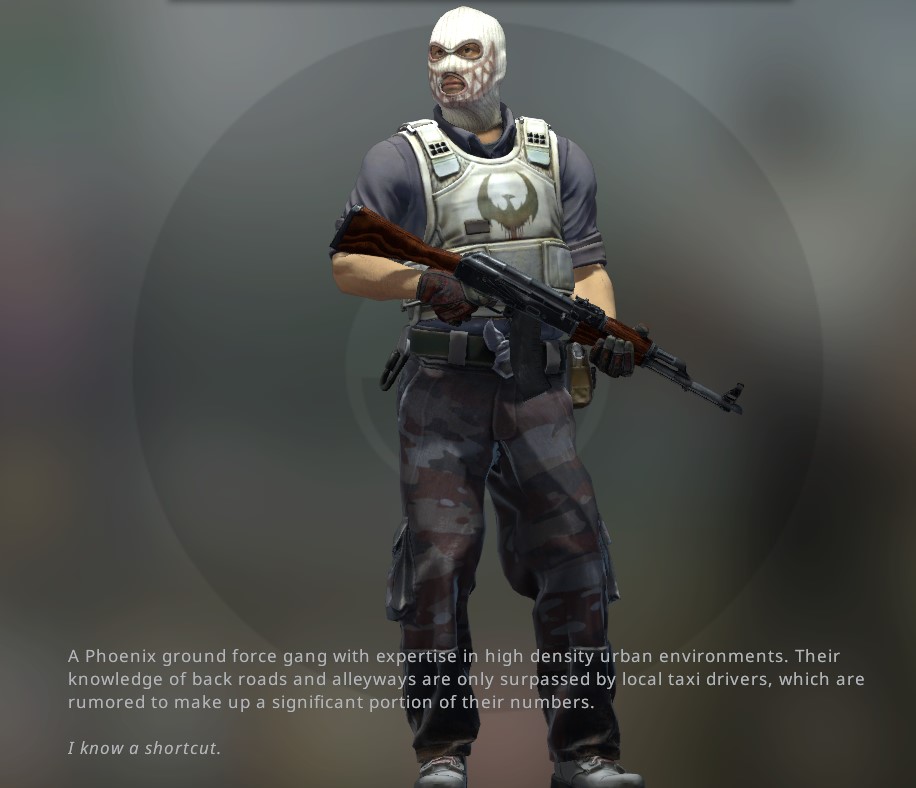 I can't tell if he's smiling or not.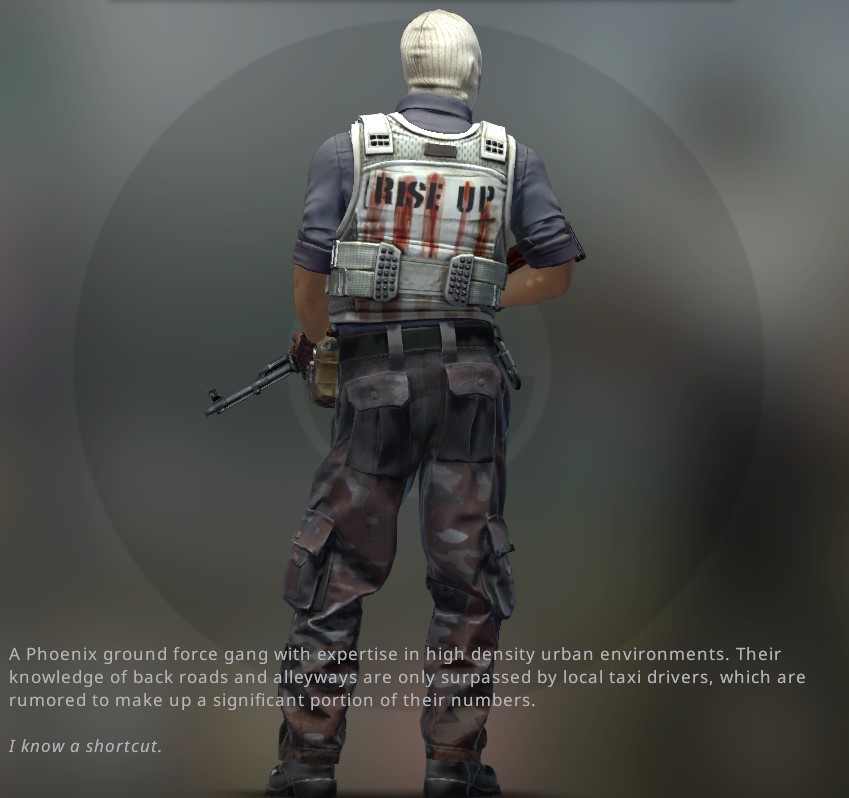 Added in 2020 (Broken Fang Collection), this Street Solider stands out thanks to its white phoenix vest and gnawing mask.
The phoenix logo appears on the chest and belt buckle (or griffin perhaps). The white vest is complemented by a gray undertone, short sleeves, and camouflage pants. On the back of the vest, you'll see vertical streaks of blood with the words, "Rise Up." Lastly, there seems to be a button strap on each side of the vest.
So if you like a gray/white combination with a phoenix logo and a face that doesn't look too mean, give this soldier a go.
Choose this Agent If you like…
A white/gray combination
A phoenix logo
Streaks of blood on your back
Gray/black camouflage pants
If you wish to, "Rise Up"
See Street Soldier | Phoenix In Action
9. Bio-Haz Specialist | SWAT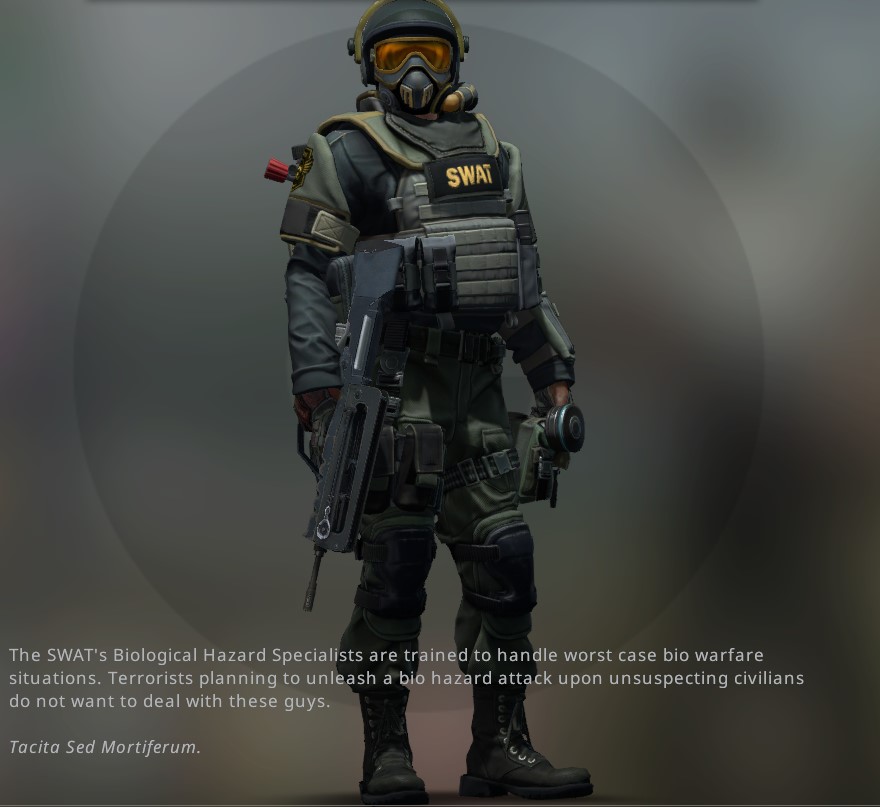 Geared up and ready to go.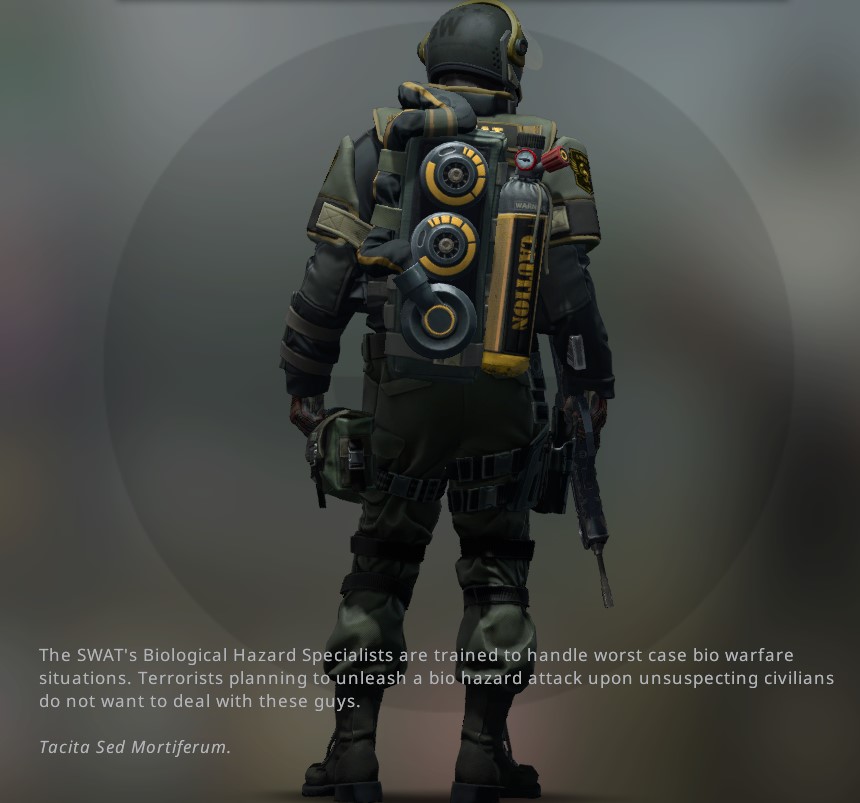 Covered in camo green, this agent appears fully loaded with a gas mask/tank, a swat vest, army boots, and plenty of pockets. He may be slightly harder to spot thanks to his dark camouflage colors. Personally, I like the dark orange transparent visor that tell you green isn't his only favorite color. The gas tank is also a nice touch if you can spot it from time to time (in third person). 
So if you want an agent that primarily uses dark green camouflage colors with a touch of orange, this SWAT Specialist is a must.
Choose this Agent If you like…
Standard green camouflage colors
A SWAT Logo
 A gas tank on your back
Lots of pockets
An orange visor
See Bio-Haz Specialist | SWAT In Action
8. Jungle Rebel | Elite Crew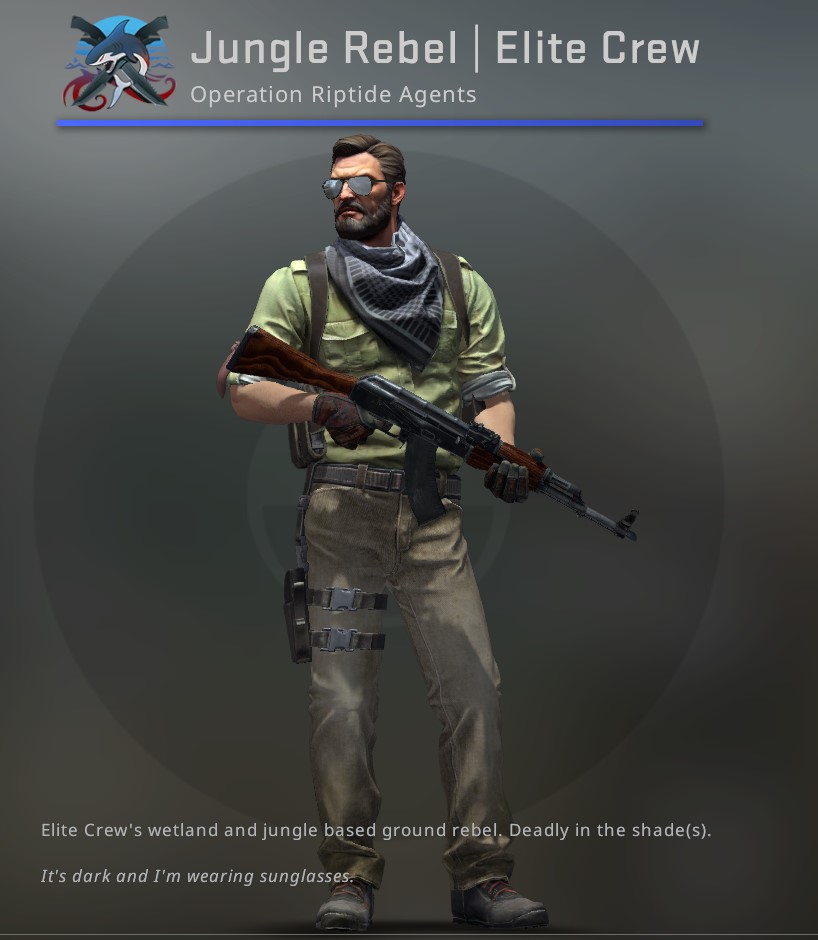 Don't need a bulletproof vest when I've got these shades.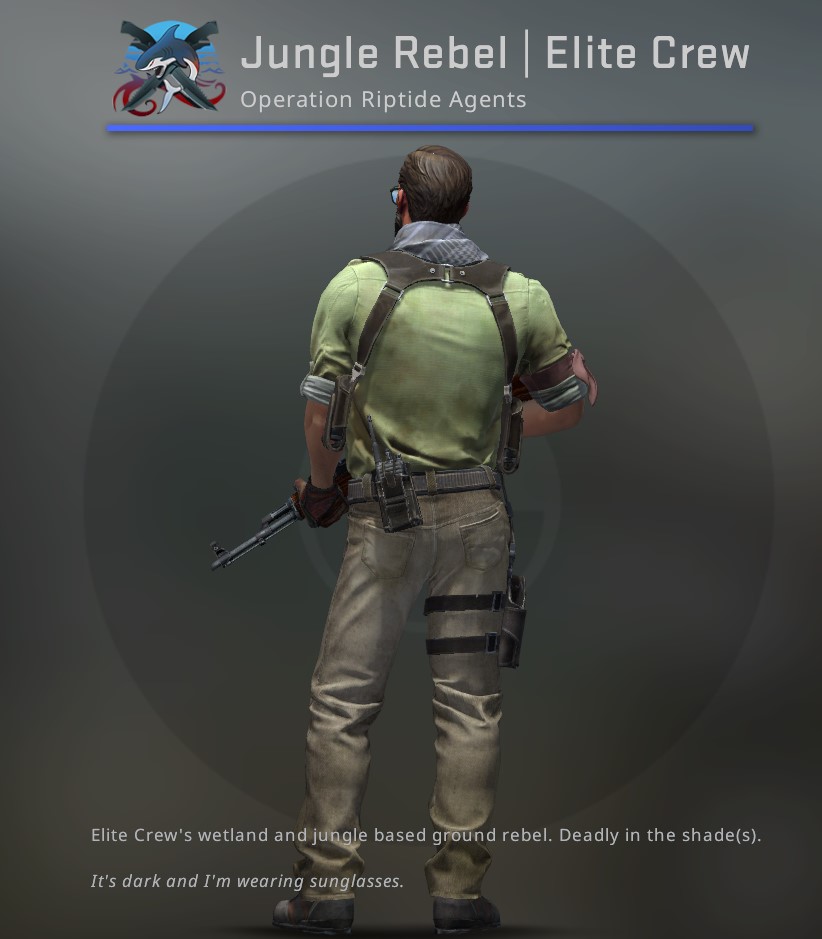 As a natural-born hunter, this Jungle Rebel offers a khaki green short-sleeve shirt with dark sandy pants. On each arm, you'll see at least one armband and a strap. As the large gray scarf complements the dark shades, this rebel goes beyond the standard 2 piece set. Like many of his t-sided friends, he has plenty of items around him, such as a holster, walkie-talkie, and other storage-related items. 
So if you want a guy that dresses well for the Jungle, along with some cool shades, this Rebel will do just fine. His haircut is pretty sharp too.
Choose this Agent If you like…
Light and sandy jungle colors
Cool shades
A nice haircut
Muddy pants
A short-sleeve shirt
7. Sir Bloody Loudmouth Darryl | The Professionals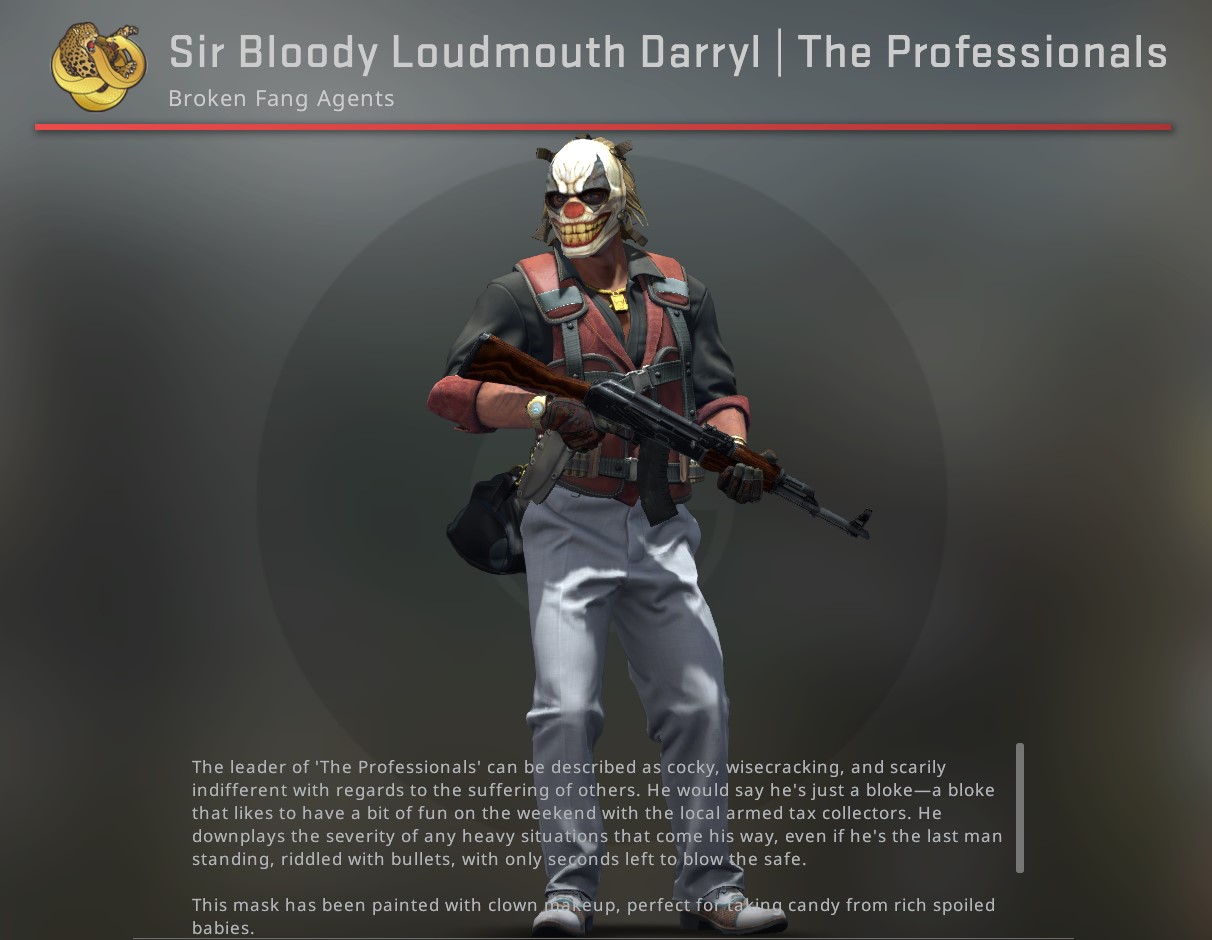 Let's have some fun, shall we?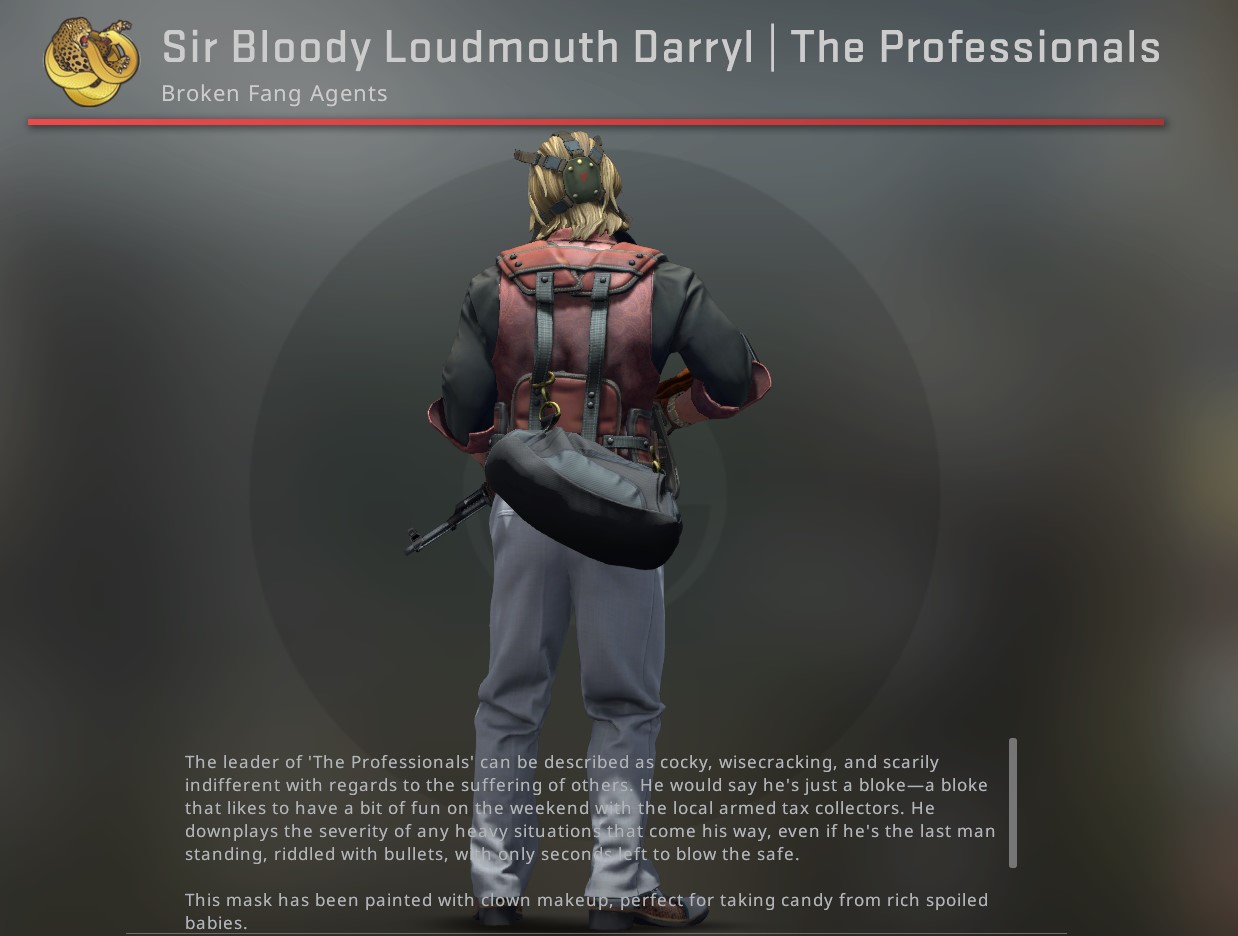 Adorned with a menacing mask and gray/red top, Darryl easily strikes fear into his enemies. The gold watch, bracelet, and necklace are a nice touch as well (which he probably stole). If you look closely at both of his arms, you'll see a tattoo of a scorpion on the left and of a cobra on the right (3rd person). His pants and shoes are fairly standard, using a sort of white and gray combination, perhaps something a golfer would wear. On each side of his vest are the holsters for his bullets, in addition to various straps. His smile wouldn't be so bad if his teeth weren't so yellow. 
So if you want a sophisticated clown on your team that knows a thing or two about a heist, or someone that looks like he just came out of Payday, Darryl is your guy. 
Choose this Agent If you like…
A clown who specializes in heists 
A clown dressed up in formal and informal clothes
A Clown with some bling
Big yellow teeth
If you're fearless
See Loudmouth Darryl In Action
6. Sir Bloody Miami Darryl | The Professionals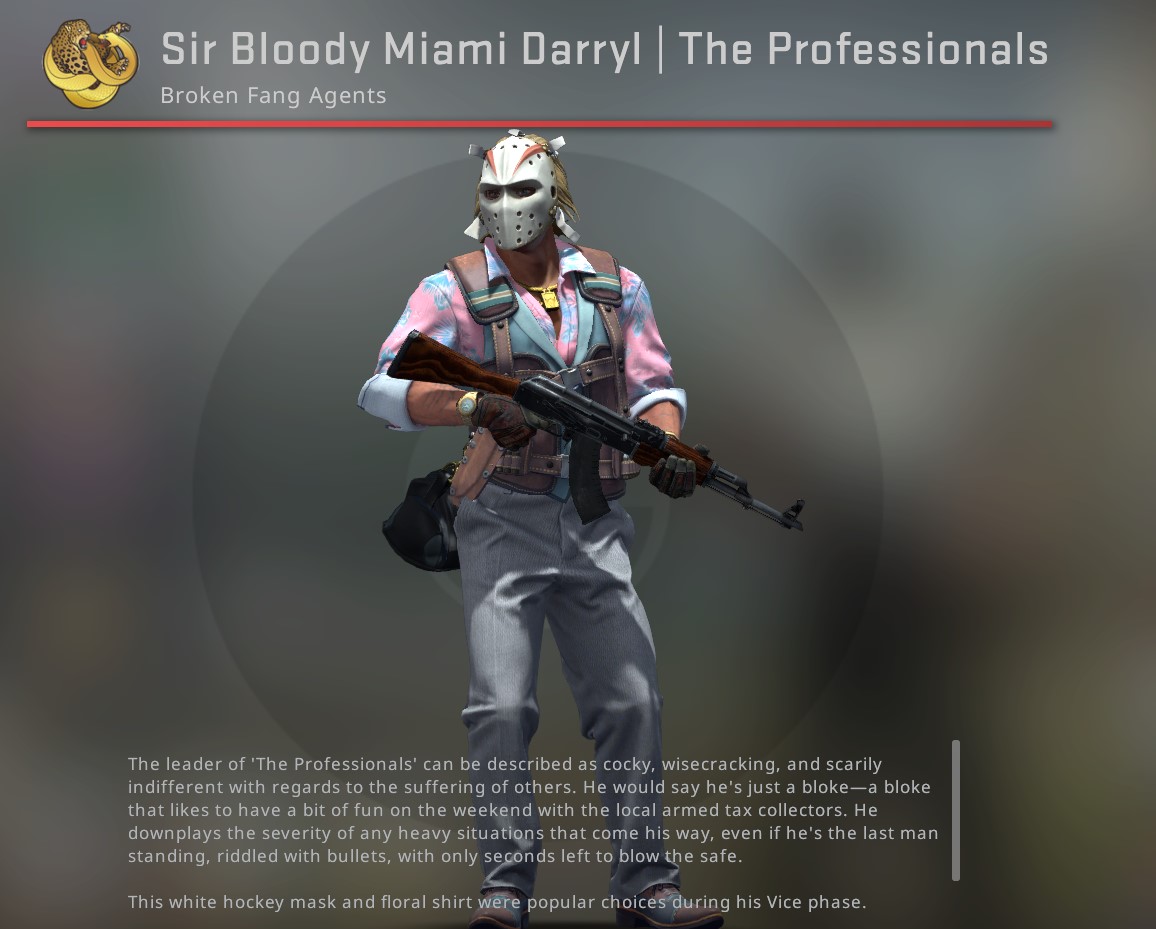 Don't be fooled by his shirt.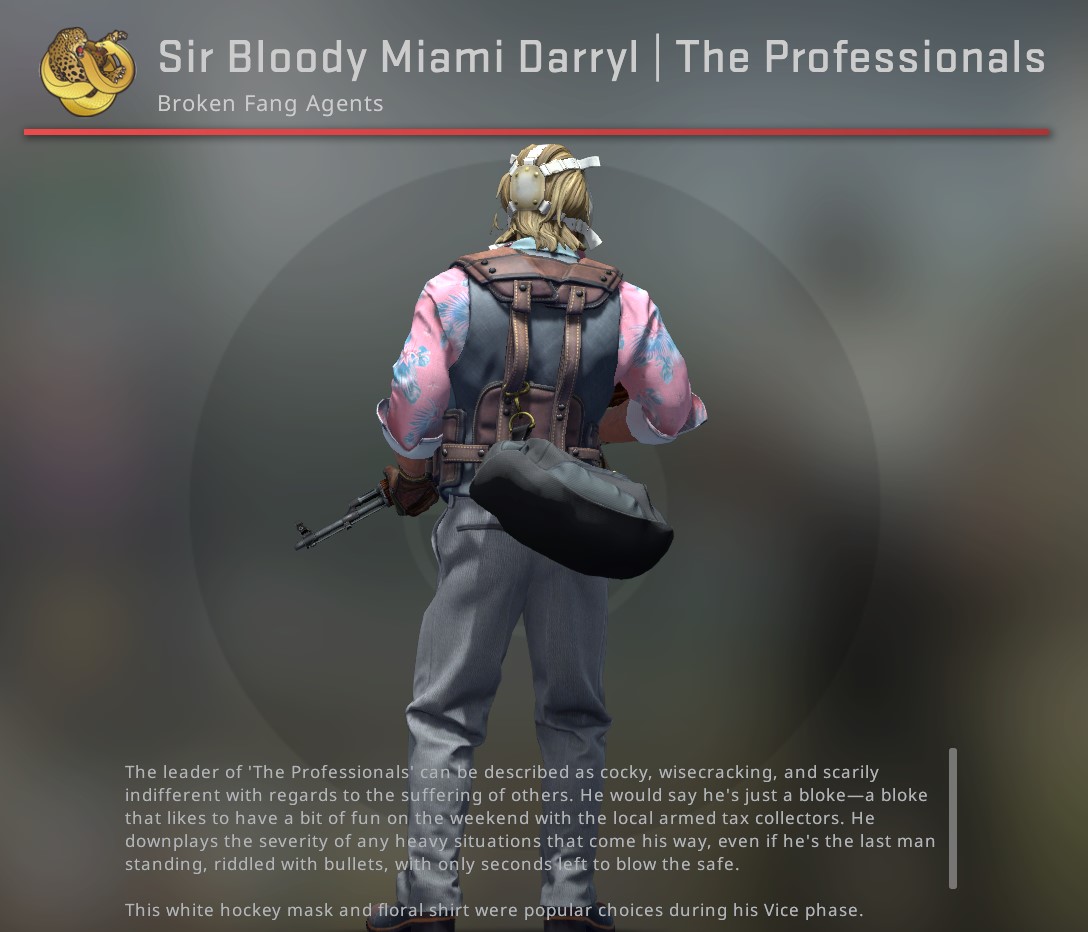 Just like Loudmouth Darryl, Miami Darryl uses an ominous mask to conceal his true identity. On top of it appears two red horns pointing inward, making it even more mischievous. Rather than a gray/black combination, this Miami rendition uses a pink and a light turquoise shirt combo alongside a leather strap and sandy gray pants. Interestingly, when you use this agent or a similar one, you should be able to see the gold watch in first person. 
So if you want a hockey-masked professional criminal who knows how to have a good time, Miami Darryl is your guy. The bling is a nice touch too. 
On a side note, he looks like he could make it in GTA Vice City or Payday if CS doesn't work out for him.
Choose this Agent If you like…
GTA Vice City vibes
 A Pink/light turquoise combo
A gold watch
Intimidating hockey mask
To party
5. Bloody Darryl The Strapped  | The Professionals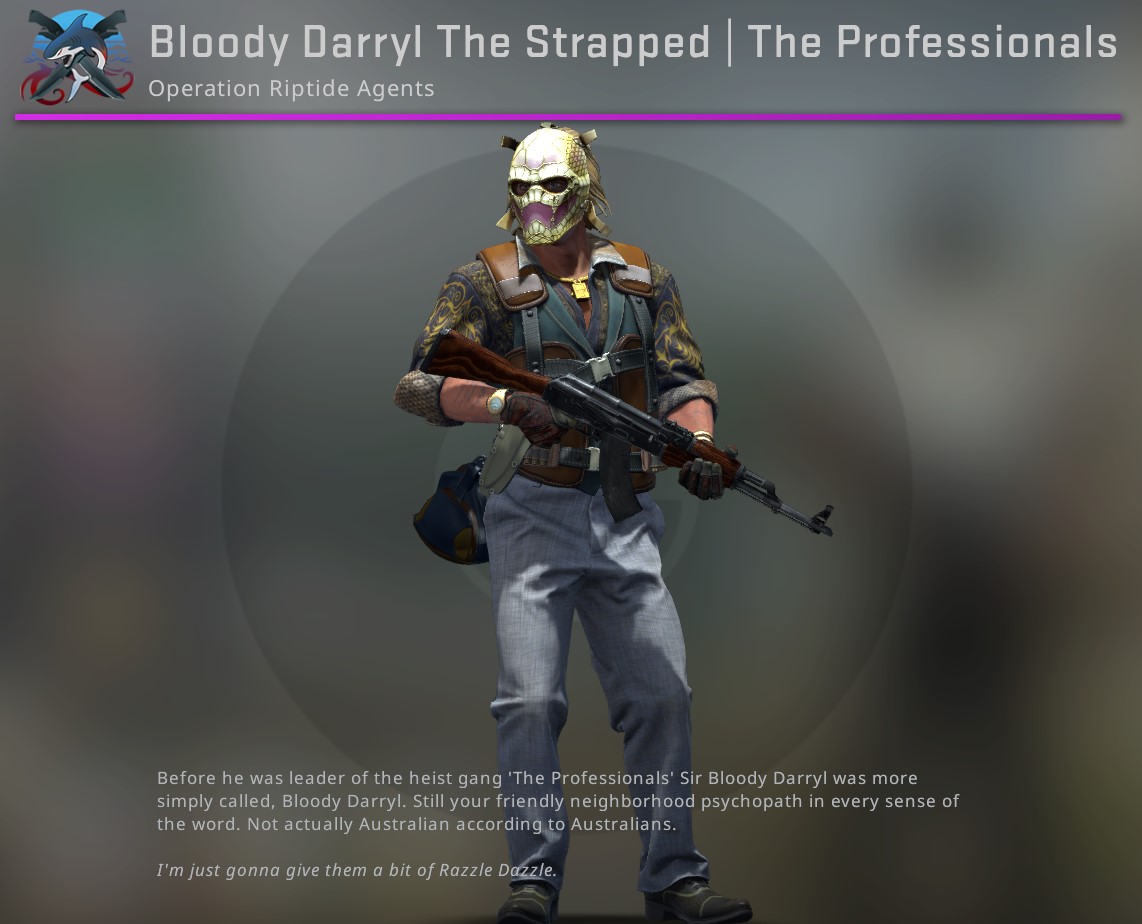 Watch your ssssstep.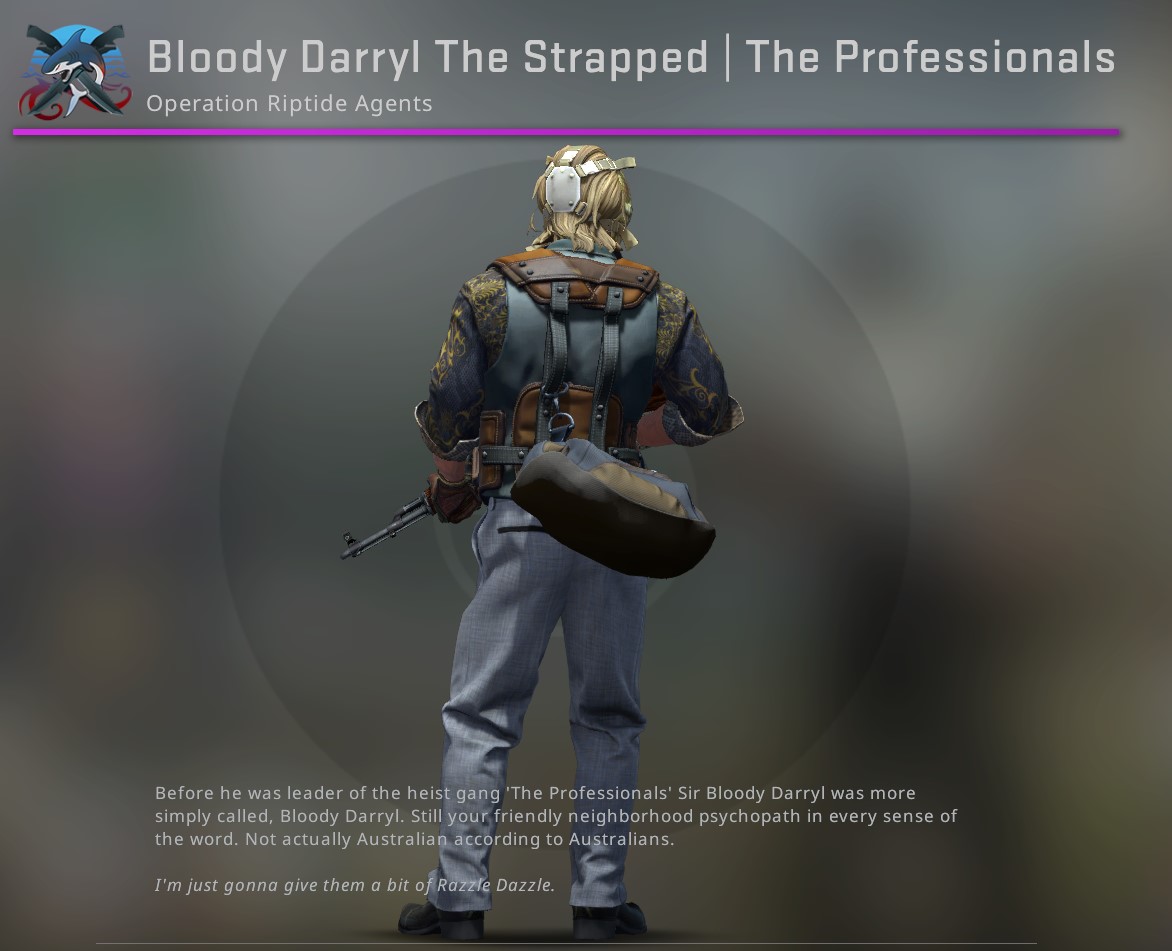 Last, but not least out of the Darryls we have Mr. Strapped, or dare I say, "Sssstrapped." Jokes aside, this edition offers a snake/reptile mask with a dark royal and gold shirt. If you look closely at each side of the mask, you can see the reptilian scales. The shirt seems to have various uncommon geometric shapes, but nevertheless, adds a bit of flair to the overall style. The light gray pants are nothing special, but provide a strong contrast to the darker colors atop. Lastly, you can see how the rolled-up sleeves also resemble the scales of a reptile. 
So even though the mask is probably what stands out the most, the shirt and sleeves give a body to this half-man half reptile, figuratively speaking. 
Choose this Agent If you like…
Reptiles and scales
A daunting mask
Yellow/gold/blue colors
A gold watch
To scare your opponents occasionally
4. Chem-Haz Capitaine | Gendarmerie Nationale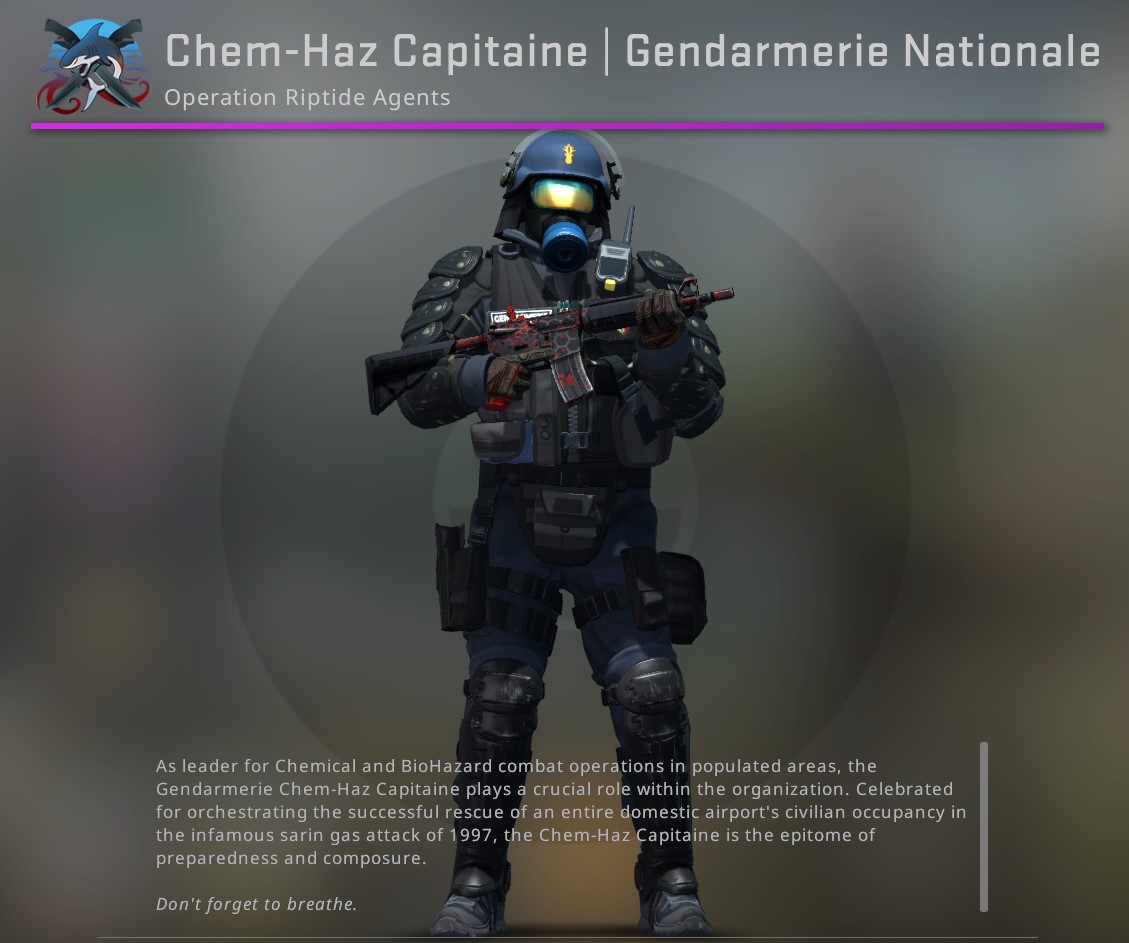 My breathing is just fine.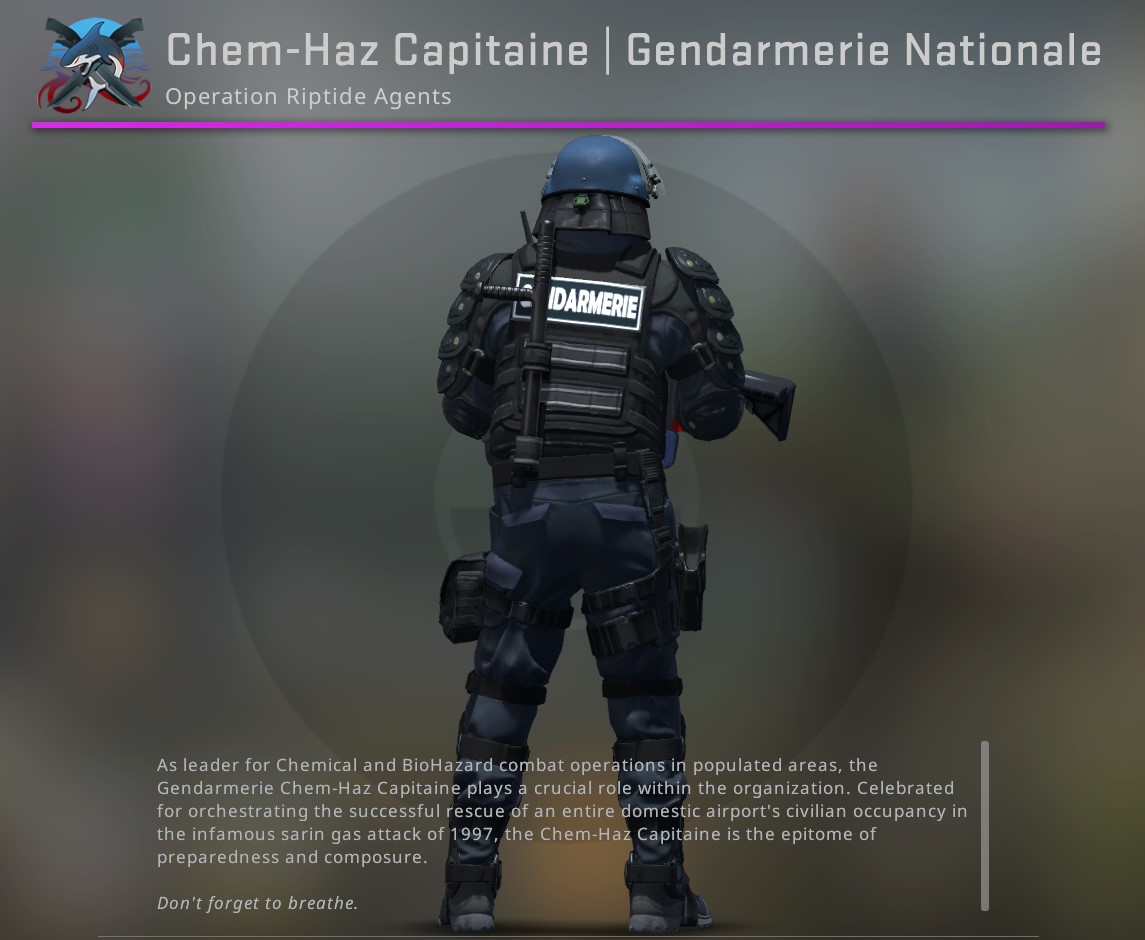 As head of the Chemical and BioHazard combat operations, this French Captain packs quite the assortment. From armored shoulder pads to small pouches to black kneecaps, there's something everyone can indulge in. Perhaps what stands out the most is the large blue gas mask alongside the helmet. On the back, you'll see a baton and the word, "Gendarmerie" which is French for Armed Police Force. 
So if you like a fully loaded CT agent that appears bulky and sturdy as nails, this Captain is a must. 
PS: You can also see the padding on the left forearm when you play with this agent in first person. 
Choose this Agent If you like…
A cool green-yellow tint visor
Black body armor with a blue undertone
A walkie-talkie by your side
A baton on your back
A bulky, but sturdy policemen
See Chem-Haz Capitaine In Action
3. 3rd Commando Company | KSK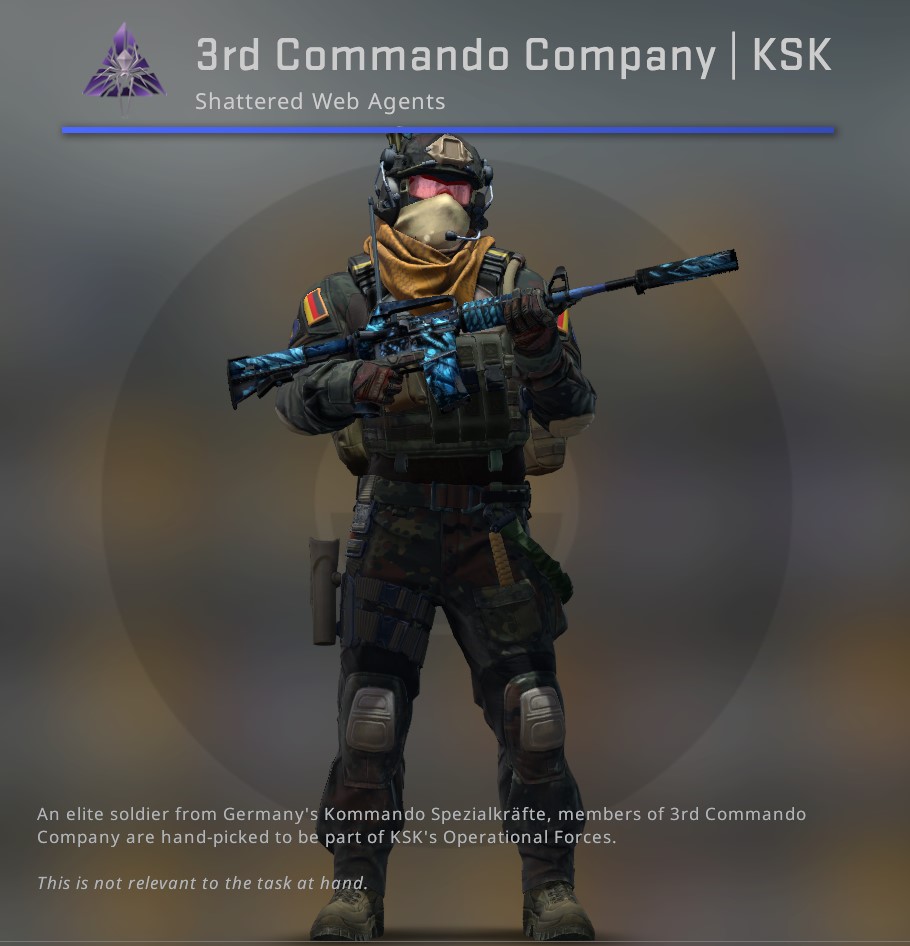 KSK is a Special Operations Unit of the German army.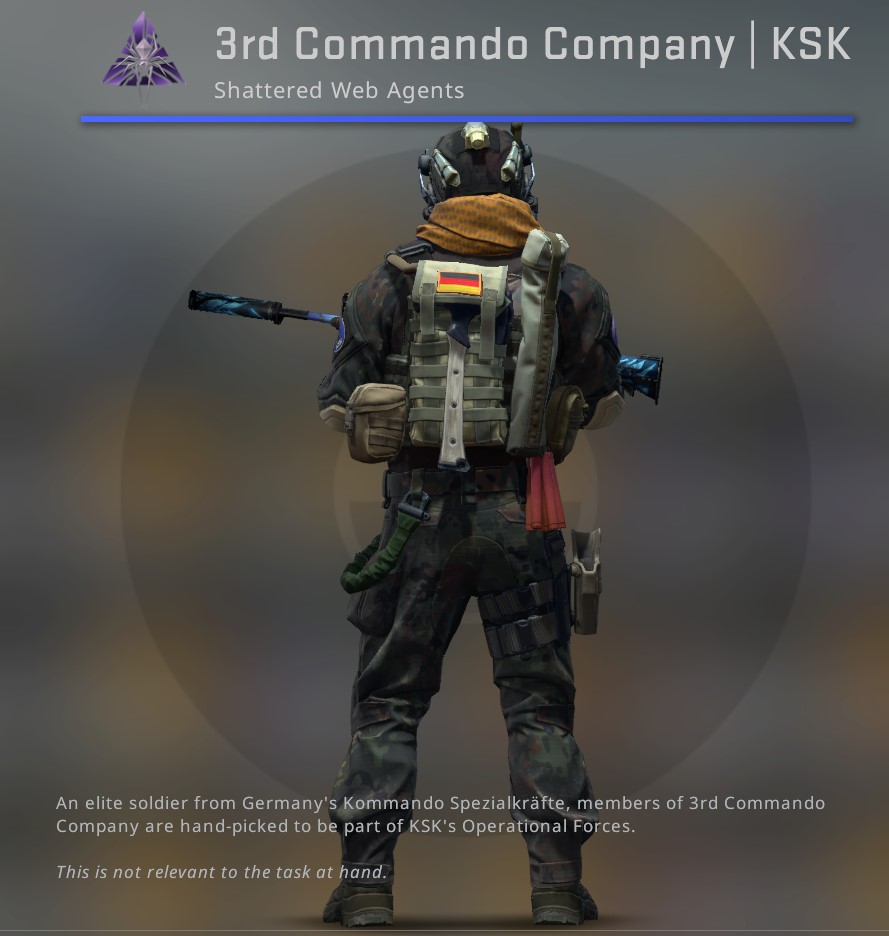 Using a sleek green, black and brown design, this elite agent features holsters, a belt buckle, pouches, an orange visor, and more. Not as bulky as the Chem-Haz Capitaine, but very efficient nonetheless. On each side, you can see a badge or Coat of Arms of the KSK. It appears to be a golden eagle watching its prey surrounded by a blue shield and black arrow. 
So if you prefer a more standard or less bulky CT agent with solid green camo colors, this German elite unit is your go-to. 
 Choose this Agent If you like…
Fairly common camo colors
A uniform that's not too bulky
An orange visor and scarf
Lightly padded uniform
A fairly straightforward design
2. John Van Healen Kask | SWAT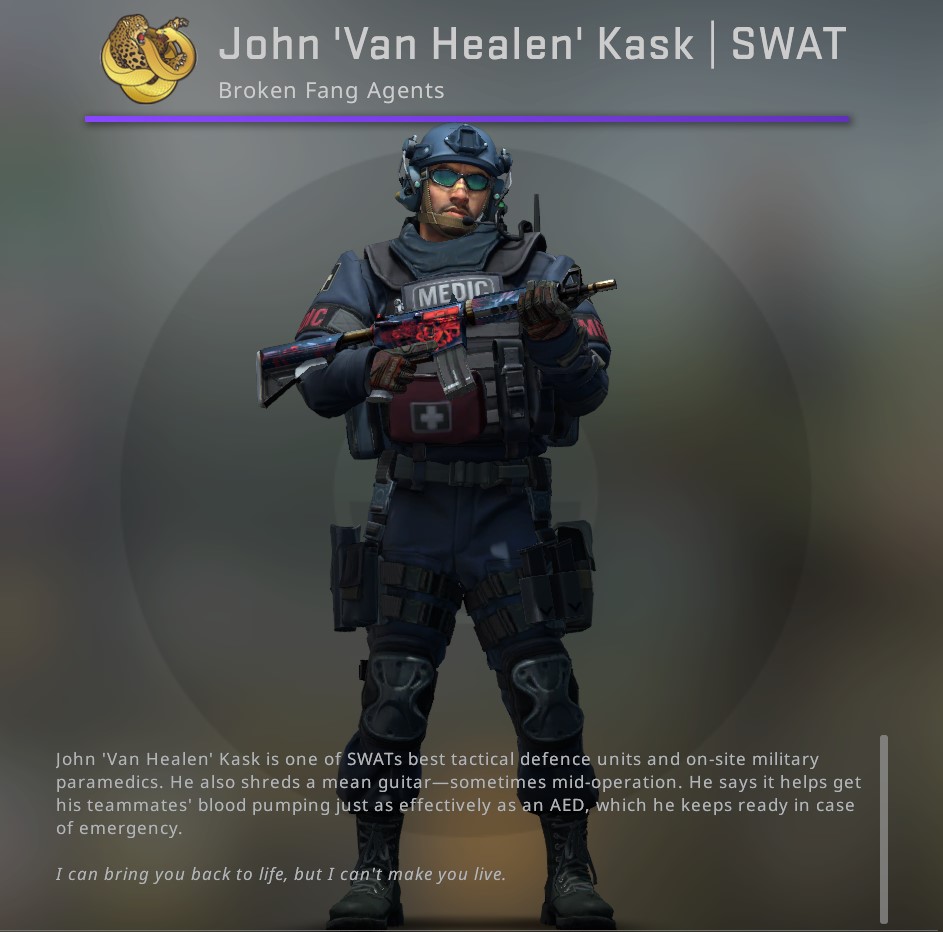 I'm pretty sure Healen isn't a real name.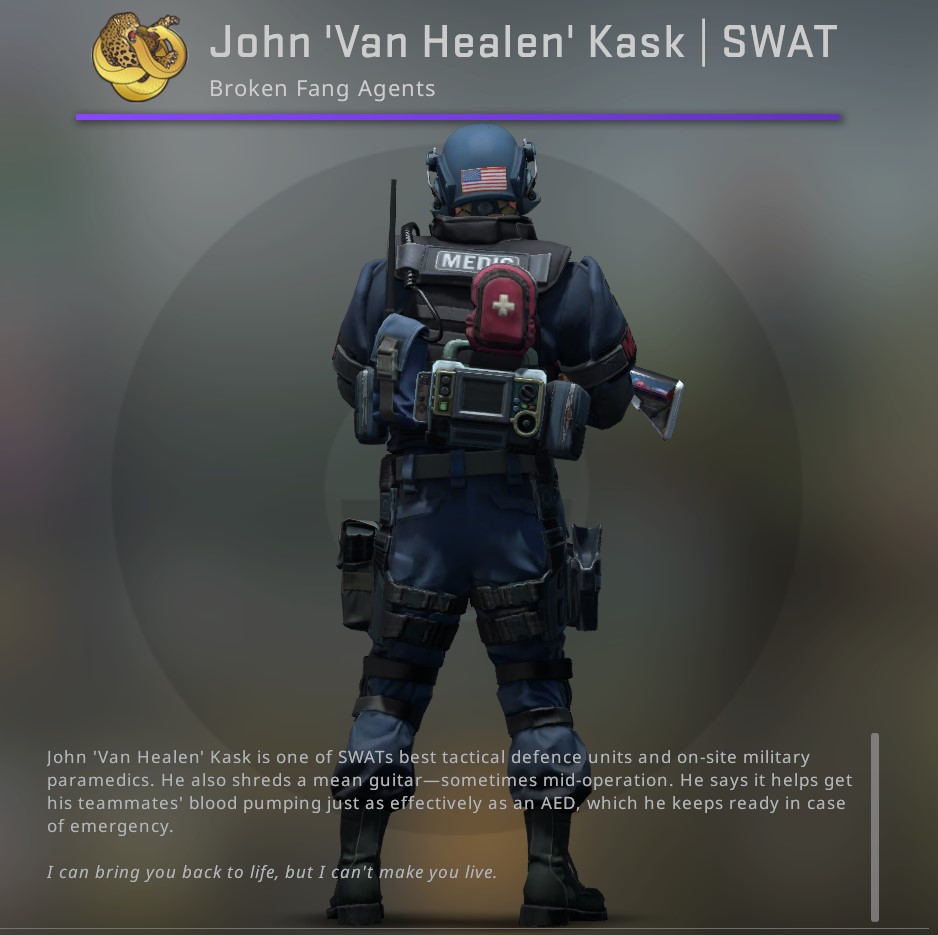 As a medic for the US SWAT team, Mr. Healen carries various items, including a med pack, gun holster, bulletproof vest, and an AED (Automated External Defibrillator; used to monitor a person's heart rhythm) on his back. On his left arm (first person), you'll see a strapped pouch. Dark royal blue with a hint of red seems to be the predominant colors for this agent. While he carries quite a few items with him, Mr. Healen doesn't own the most baggage, per se.
So if you want a medic on your team that offers a moderate amount of equipment in predominantly blue clothing, John Van Healen has your back. 
 Choose this Agent If you like…
A moderately equipped medic
Dark blue and red colors
Cool blue visors
The word, "medic" across your chest
If you want to see a pouch on your left arm
1. Getaway Sally | The Professionals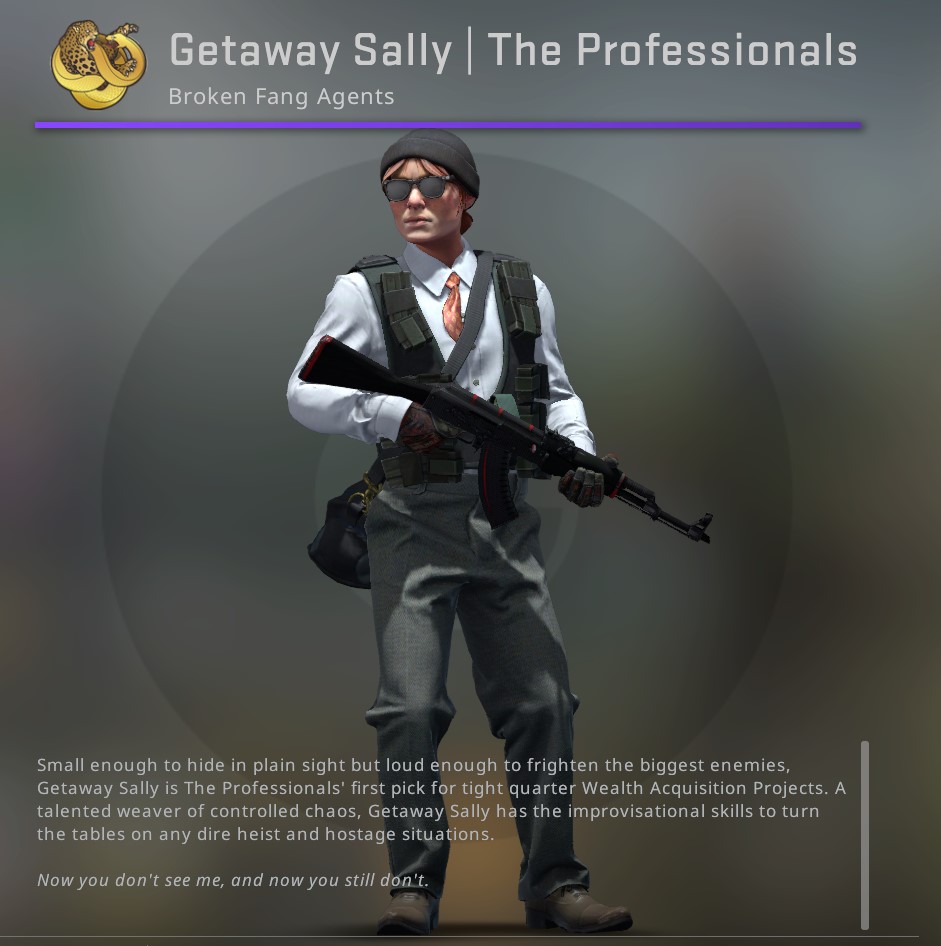 I'll be your driver for today.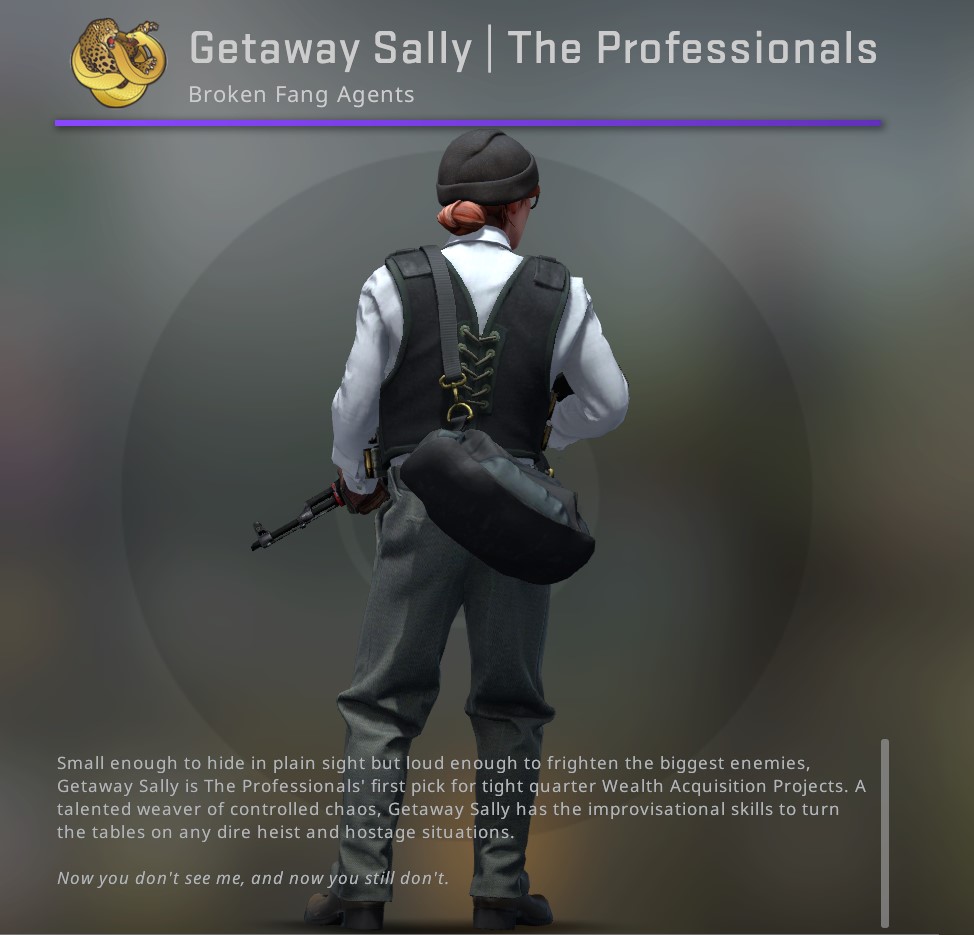 Stocked with ammunition and a flashbang, Getaway Sally bears a black vest with a white-collar shirt. The color of her hair seems to match her orange tie as well. Her pants resemble a gradient gray color and unlike most of her colleagues, she wears a beanie. Moreover, her dark shades give her the appearance of a heist leader. Lastly, the brown shoes add a small, but significant element to her appearance, given their slightly stark, but clean contrast. Overall, the outfit is unique in that it relatively resembles the black and white prison uniforms back in the day (except it's way more clean cut). 
So if you want an agent that rocks a solid black and white outfit with cool shades (who also happens to run a heist), Sally's your gal. 
 Choose this Agent If you like…
A lightly equipped agent
A black and white contrast
Cool black shades
A white-collar shirt with an orange tie
If your name happens to be Sally
Image Gallery