Telltale Games: A List of the 10 Best Telltale Games to Play in 2015 and 2016: Page 8 of 10
Updated: 24 Jul 2015 5:30 am
The newest Walking Dead installment.
3. The Wolf Among Us
An award-winning game based off of award-winning comics. 
Make no mistake, The Wolf Among Us is not for kids, as it is based off of a mature comic.  The game is gritty, violent, bloody, and yet still sexy at times.  That said, if you're old enough, you'll enjoy it if the dark comic feel is one you're drawn to.
You play as Bigby Wolf, who is the sheriff of Fabletown.  It helps that he has extra-human senses and the ability to turn into a big bad wolf.  Through his eyes, you will interact with his part of New York City.   
This game is a stand-alone, separate from anything else Telltale has put out, as well as relatively separate from Fables.  The Wolf Among Us is set up to take place before the events in Fables.  However, if you have read the comic book, you'll see some familiar characters and places. 
There are additional cameos and revisionings of characters like Beauty and the Beast and Ichabod Crane.  Plus there's Colin Pig and the Woodsman—characters who have more of a personal relationship to Bigby.  The Wolf Among Us is a great trip into a fantastical realm and ranked the #1 detective video game to play in 2015.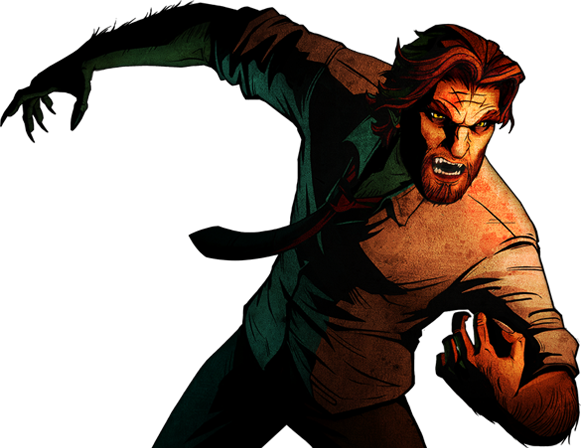 Pretty menacing when he wants to be.    
This is a game that tests your morals and emotions.  Like other games from Telltale, it puts you in control of the choices and gives a new meaning to "role-playing." 
My rating: 5/5
Official site: https://www.telltalegames.com/thewolfamongus/
Image Gallery