League of Legends: 11 Fun Facts About "Faker" You Didn't Know: Page 8 of 11
Updated: 03 Jul 2016 4:58 am
The Faker God has been Awakened
8) What's he do in his free time?
Faker likes to relax and listen to his favorite artist, Taylor Swift. Did you see that coming? Neither did we.
Whenever he gets stressed, he also likes to look at his two flower pots fill with blooming plants. Faker doesn't get a whole lot of free time, so most of it spent in scrimmages with his team in practice for the professional games.
He used to not be allowed to stream on the side like almost all other League of Legends professional gamers. However, he now has a stream account! Just know his stream smurf account name is "Hide on bush". Happy watching!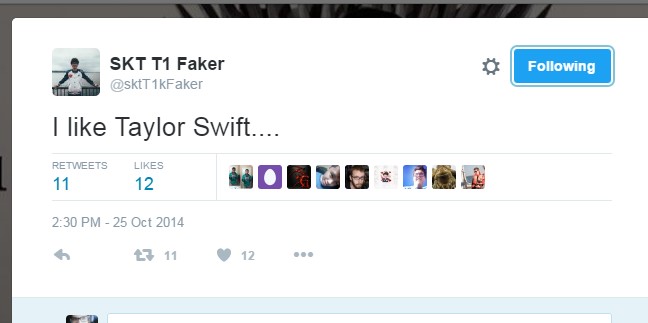 Proof that Faker likes Taylor Swift.
Image Gallery