Dota 2 The International: Let's Look Back At All Past TI Events (2011-2014). And What To Expect In TI5: Page 2 of 2
Updated: 05 Jun 2015 11:58 am
The DOTA 2 International Championship
The International 3 (2013)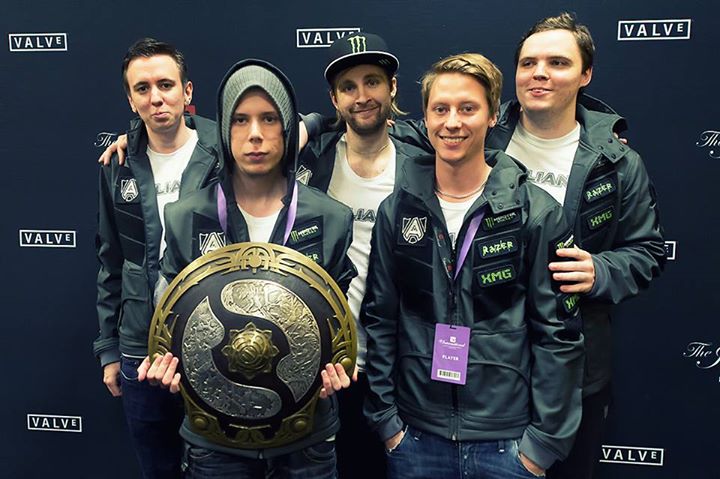 Alliance, winners of the third International tournament
The third International was where Valve began to change things up. It was announced on April 25, 2013 and was to be held in August from the seventh to the eleventh. This time it wouldn't be tied to any particular convention and would be its own event.
What also made this particular tournament different was the Compendium. The Compendium was Valve's way of giving back to the audience. The Compendium was an online booklet or program of sorts that contained tons of in game prizes. These prizes ranged from trophies to cosmetic items to complete redoes of characters. It allowed players to vote on which characters they wanted redone as well as make predictions for which teams would be invited and eventually go on to win the tournament.
Something that was unique to the International at the time was the prize pool. While the prize pool started off at the traditional $1.6 million. But every time someone buys a compendium exactly twenty-five percent of the sale goes into the prize pool. At ten dollars, that means that $2.50 of every compendium sold goes into the total prize pool. By the time the International 3 went on, the total prize pool was nearly three million dollars. For first place, this meant the team would be awarded a whopping $1,437,190. Such an amount is the largest ever awarded in an esports event. The event also topped viewing numbers, bringing in over one million views on websites like Twitch.tv.
The competition was fierce and the fallout from TI3 caused a number of balance changes to occur within DOTA 2. But in the end the finals were against Natus Vincere – a staple of the finals of the International at this point – and Sweden's Alliance. For the first time International history, the series went all the way to game five. But it was Alliance who pulled ahead, raking in nearly a million and a half dollars in prize money. The event was a huge success for practically all parties involved. But the International was only going to get bigger.
Highlights Recap:
The event was held at the Benaroya Hall in Seattle, Washington on 7-11 August 2013.
The total prize pool was $2,874,381.
The finals were between Alliance and Natus Vincere.
Alliance was the winner.
Prize Money Distribution:
1st Alliance $1,437,190
2nd Natus Vincere $632,364
3rd Orange Esports $287,438
4th TongFu Team $201,207
5/6th Team DK $114,975
5/6th Invictus Gaming $114,975
7/8th Fnatic $43,116
7/8th Team Liquid $43,116
The International 4 (2014)

Art for the International 4
The fourth International was held last year, but this time the venue would change the tournament would be held in the summer. The past International was held at the Benaorya Hall in Seattle. This one would be moved into the KeyArena, a place with a much larger capacity. International tickets were sold in three different tiers of admission. There were was regular admission, VIP tickets, and floor seating. Tickets were sold out in hours.
Like its predecessor. The International 4 had a compendium. Like last time, portions of the proceeds would go towards the prize pool. There was fear among people though that there was no way they could top their last prize pool. What would happen if that were the case? Would such a model continue to be stable?
As far as the fourth International was concerned, it was sustainable. The prize pool grew tenfold of the last tournament. By the time the tournament went live the prize pool went over $10 million. For first prize that meant they would receive over $5 million. That would make them the highest paid professional gamers in the world, surpassing StarCraft's Lee "Jaedong" Jae-dong.
The finals this time around were all Chinese based. Team Newbee was something of an upset as they lost some of their first games. People were really unsure of them because they were a relatively new team on the scene. But they proved their merit by destroying everyone else in their path. They met with Vici Gaming in the finals and only lost a single game to them, going 3-1. Many criticized Vici Gaming's performance in the games, saying that their style was too dependent on winning early. Because of that, Newbee came out on top, their team becoming some of the richest gamers in the world.
Another notable bit of the International was its All-Star game. People who bought the compendium got to vote on which members they'd like selected for a very humorous game of DOTA. This happened at last year's tournament but this one was special because it coincided with Valve's reveal of a new hero: the Techies. The Techies are something of a goofy hero in DOTA 2 so it was befitting of them to be revealed at the International's All-Star game where people were cheating, running into the other team's booths, and all around have a grand ol' time.
Highlights Recap:
The event was held at the KeyArena in Seattle, Washington on 18-21 July 2014. 
The total prize pool was $10,931,105.
The finals were between Newbee and Vici Gaming.
Newbee was the winner.
Prize Money Distribution:
1st Newbee $5,028,308 46.00%
2nd Vici Gaming $1,475,699 13.50%
3rd Evil Geniuses $1,038,455 9.50%
4th Team DK $819,833 7.50%
5/6th Cloud9 $655,866 6.00%
5/6th LGD Gaming $655,866 6.00%
7/8th Natus Vincere $519,227 4.75%
7/8th Invictus Gaming $519,227 4.75%
9/10th Team Liquid $49,190 0.45%
9/10th Titan eSports $49,190 0.45%
11/12th Mousesports $38,259 0.35%
11/12th Alliance $38,259 0.35%
13/14th Team Empire $21,862 0.20%
13/14th Fnatic $21,862 0.20%
The International 5 (2015)

Art for the International 5's compendium
Looking forward to the fifth International, tickets have already sold out. TI5 is looking to be even bigger than the last one. Though it lands a little later in the summer – early August this time around – people are just as excited. International tickets are already sold out and the prize pool is nearing $10 million already.
Like last time the compendium comes with several different rewards for players who dive into it. People can vote on a new arcana – a redesign of a hero – and receive treasures of specially designed items for various heroes in the game.
But each milestone also unlocks various new goodies. Currently the milestones go up to $15 million. There isn't much further to go before Valve hits that's mark. Prizes include a new map design, new weather effects, announcer packs, and so on. The entry price for the Compendium is $10. So it's not hard to buy in in order to get all those types of prizes.
At the time only a few of the teams have been announced. Those teams are mostly American and European – thought a few Asian teams have been announced – because the winners from other qualifiers haven't been announced yet. So far there is:
EG Gaming
Vici Gaming
Team Secret
Invictus Gaming
Virtus Pro
Team Empire
Cloud9
Newbee
LGD Gaming
Team Malaysia
A bunch of team rosters have changed so there's no clear favorite for the tournament. No doubt people are looking at teams like Cloud9, Invictus Gaming, and Newbee as popular teams. But there haven't been any repeat winners in the International yet. Could this be the first time we have a repeat winner?
That said there are still three months to go before TI5 begins. And once it does there will no doubt be amazing matches, balance changes, and first place getting a huge junk of change.  
The International 5 will be held at the KeyArena at Seattle Center on August 3-8, 2015.
Pages
Image Gallery