10 Strongest League of Legends Teams in 2016: Page 7 of 10
Updated: 15 Apr 2016 10:01 pm
Fnatic, waving their banner high and asserting their authority as they hold up the EU LCS trophy they so rightfully earned after finishing first place in their league and earning the slot of top seed EU for Worlds 2015 last season.
4) "Team SoloMid (NA LCS)"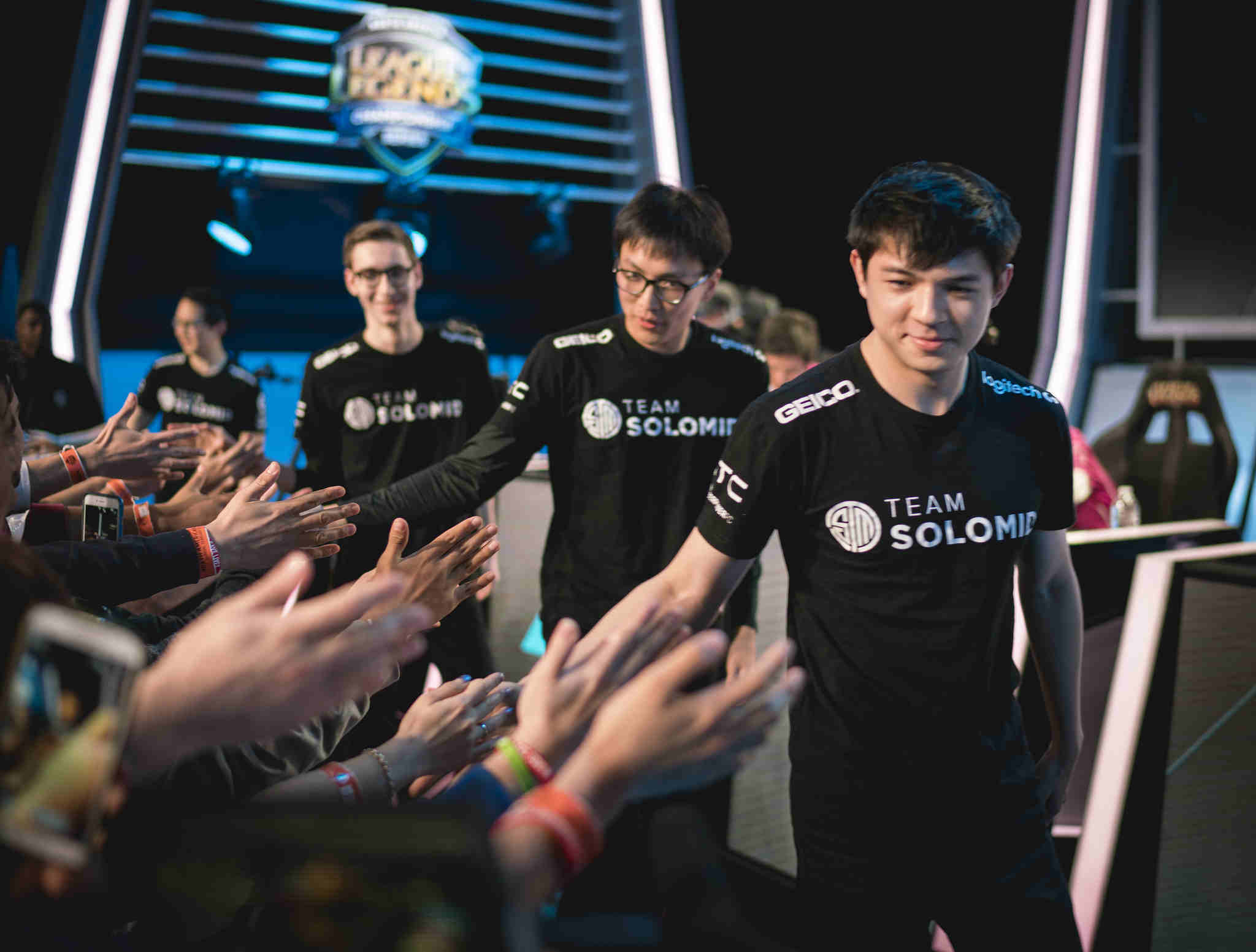 "Team SoloMid high-fiving and shaking hands with their cheering fans as they enter the stages of NA LCS."
If you're a huge fan of them (like me), you should know that they are the pre-Oscar Leonardo DiCaprio of Worlds as they are have produced countless of quality performances over the years, but they have yet to bring home the bacon. The only team to have been through all 5 seasons of Worlds, will luck be in their favor to break their Worlds Championship Finals dry spell this season?
Active Roster:
Hauntzer- Top
Svenskeren- Jungle
Bjergsen- Mid
Doublelift- ADC
YellowStar- Support
TheOddOne, Reginald, Valkrin- Subs/ (Jungle, Mid, Support)
A serious contender for Worlds since Season 1. TSM has all the skills, the right players, and the name to make it into Worlds. A continuous streak of upsets at Worlds, TSM has to make a stand now to win Worlds and etch their part in LoL's history books.
For the longest time, CLG's Doublelift has been a very big threat to them but he's had a change of heart and now became their main ADC. Not to mention Valkrin and Gosu, both prominent players (one being one of the most popular streamers of all time), have joined their ranks as substitutes. Although it isn't all sunshine and rainbows for TSM as their long time Top-laner, Dyrus, has just recently retired from pro play. In addition, TSM isn't looking too well on LCS ranks (as of writing) for they are just below their strongest opponents. Time will tell if TSM can pull through the rough patches they are currently in.
Last Worlds, they've let a lot of fans down by failing to even get through the groups stages. TSM now holds an insanely strong team, but they can they adjust to the new tides of their new changes to the team and sail their way to victory this time around at the next Worlds?
FB Page: https://www.facebook.com/TSMPRO/, very active at 476k likes.
Chance of this team winning Worlds 2016: 8/10 Teemos. (I'm still hoping!)
Image Gallery