[Top 10] Minecraft Best Girl Skins That Are Awesome
Updated: 19 Aug 2020 1:51 pm
Alex is a well rounded sports starLet's be honest. There are a lot of skins available for Minecraft in today's world! Some of them look wacky, others look formal. And then there are girl skins, which for some reason all have big anime eyes. They are super
Let's be honest. There are a lot of skins available for Minecraft in today's world! Some of them look wacky, others look formal. And then there are girl skins, which for some reason all have big anime eyes. They are super in demand, so here's a list of the top ten best ones, and where to download them. Let's get "digging!"
10. Gamer Girl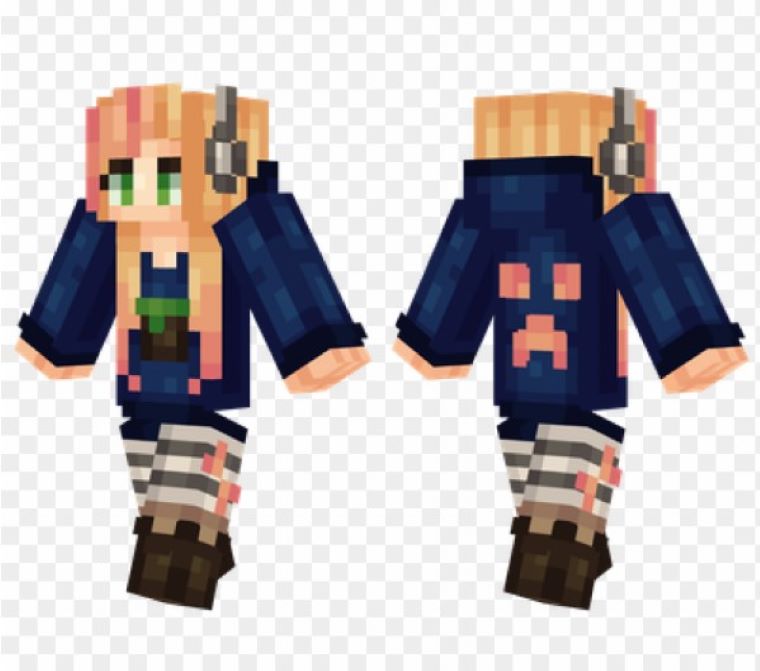 First up we have the Gamer Girl
This skin has two very iconic symbols on it: a creeper face, and a grass block. And already you can see the anime eyes. It also uses the old 4-pixel wide arms, as most skins in general do.
This skin
Gives you a Minecrafty feeling like you bought the clothes in the game.
Makes you look cool with its headset
Has that hairstyle girl skins tend to have.
Get the skin here!
9. Pokémon Trainer Girl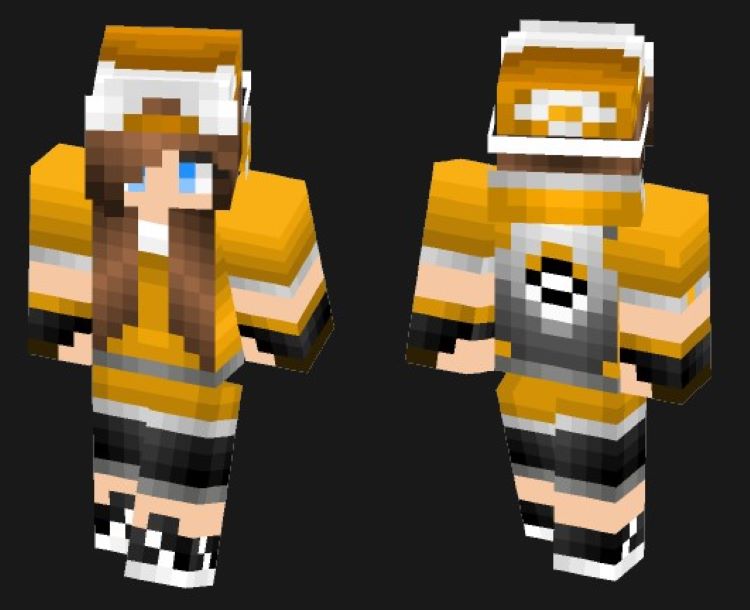 Gotta catch 'em all!
This skin is the female trainer from Pokémon Red and Blue, but with an added yellow twist. It also gives you biker gloves, so that's good. Maybe, if you like the idea of a ten-year-old anime Pokémon trainer in a biker outfit. 
This skin
Has the most pleasant shade of yellow that doesn't kill your eyes
Comes with a matching Pokémon hat!
Has a golden Pokéball on it. Talk about fancy.
Get the skin here!
8. Not-Default Alex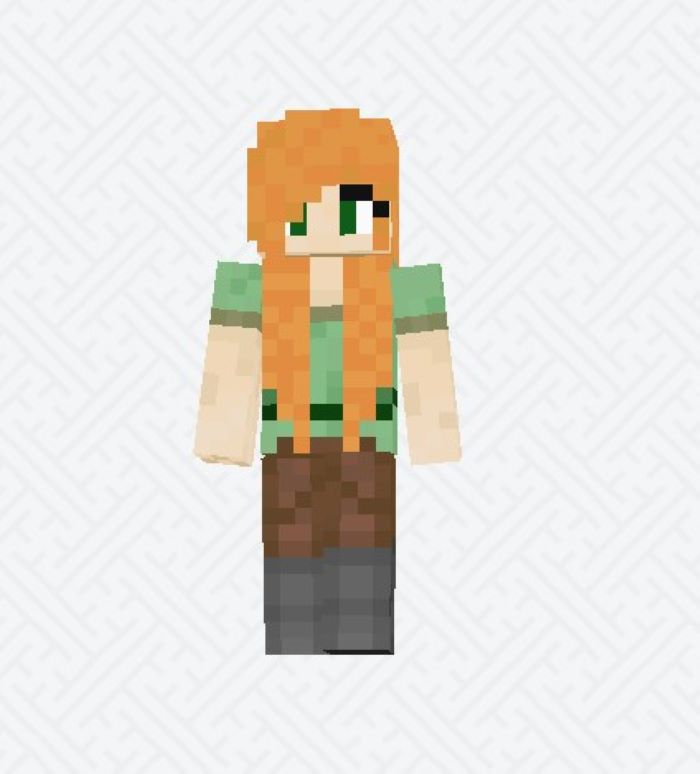 Dude, look! A default skin!
It's Alex! But with a more "what players want to look like" kind of look. The hair is longer and taken out, the eyes are much bigger, and for some reason, eyelashes were added.
This skin
Lets you use the default skin without being mean to Fortnite players. (Or it's extremely disrespectful depending on your point of view).
Gives you 3-pixel arms. Hooray for feminine skins!
Gives you massive eyelashes. Hooray for expressive skins!
Get the skin here!
7. Next Dimension Girl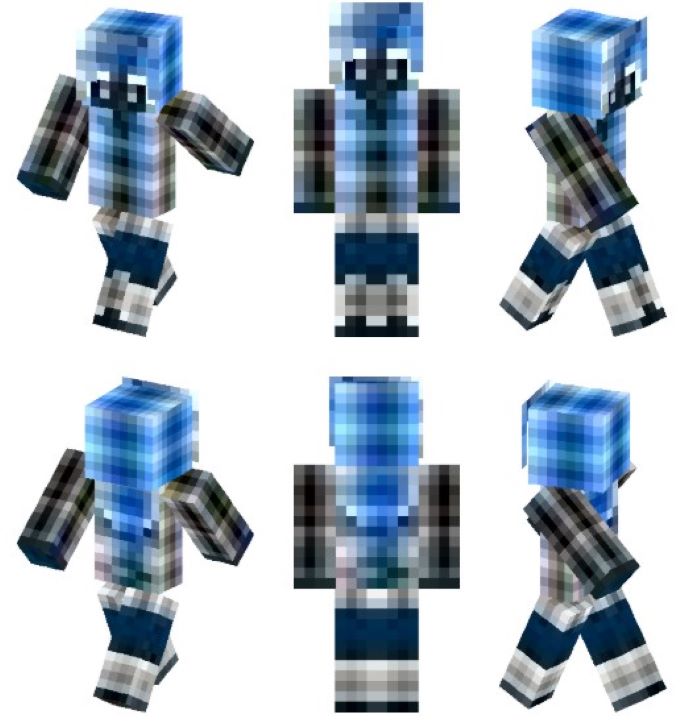 Cross into the 3rd dimension!
This skin… wow. The colors are all inverted, and if you were to invert them again, the hair would be brown, the skin would be tan, and the eyes and clothes would be bright grey and white. Imagine if whoever made this skin was using an inverted colored screen the whole time. That must've been confusing!
This skin:
Looks like something out of a sci-fi or a horror movie.
Helps you stand out from the crowd
Helps you sneak around dark places like a ghostly ninja-miner.
Get the skin here!
6. Casual Girl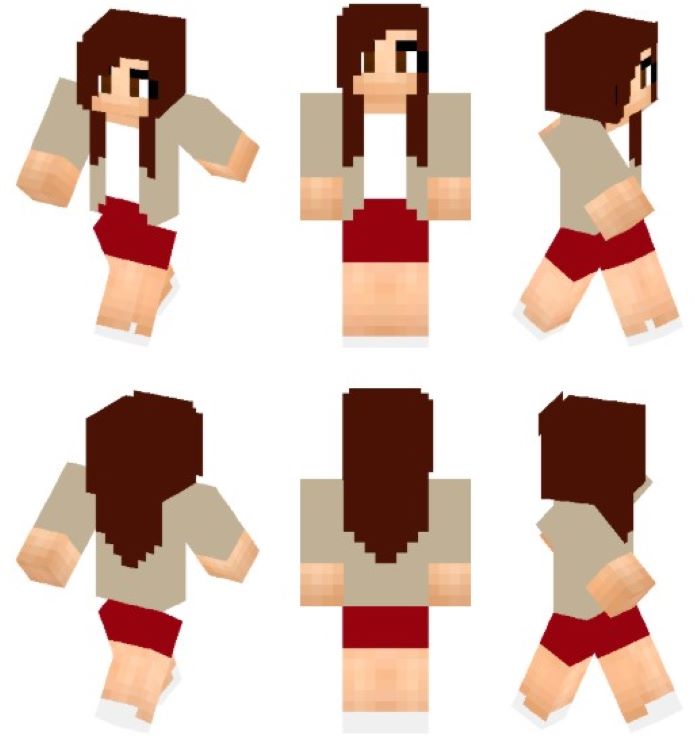 She looks so buff!
For some reason, this skin just looks like one you would give to your mom if they tried to play Minecraft with you. If she does do that, she could just use a default skin. But why WOULD she when she can have super shredded 4-pixel arms and legs like a bodybuilder! Who doesn't love muscles without pain? No pain, still gain!
This skin
Is just the kind of formality such a wacky game like MC needs.
Doesn't say "I'm artistic, please notice me!" as most skins do
Is a great gift for your mother, aunt, grandma, or really old cousin that's way more/less mature than you!
Get the skin here!
5. Holiday Girl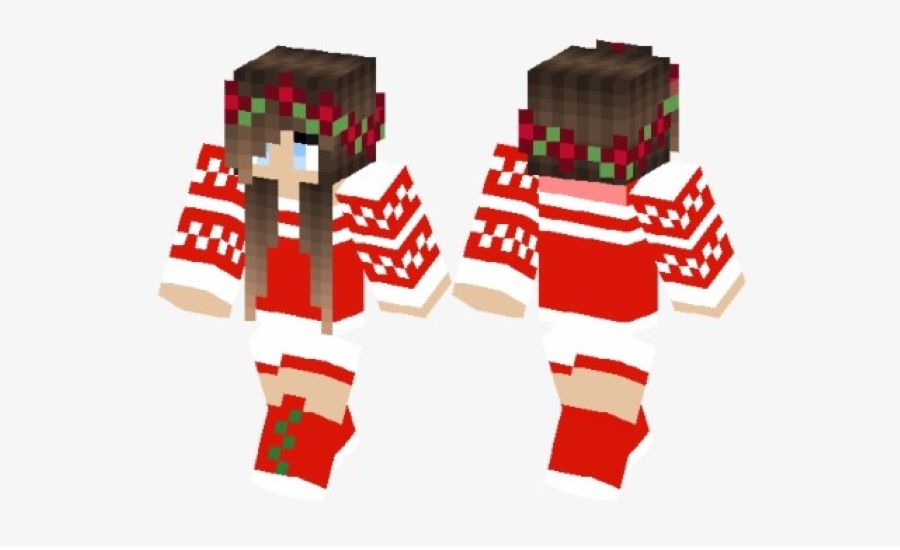 And a cree-per in an oak tree~!
First, let's get something straight. She is not wearing mistletoe. Its holly. So don't go thinking, "Oh, she technically is under the mistletoe!" No, it's holly. Or maybe its a sweet berry bush, you know since it's Minecraft. Either way, this girl is decked out. With boughs of holly!! HA!
This skin
Is good for any holiday, including April Fools, Halloween, and Cinco de Mayo!
Is wrapped up nice, warm, and cozy for Christmas in July!
Has a lot of red, so you'll be easy to spot from far away.
Get the skin here!
4. Pikachu Hoodie Girl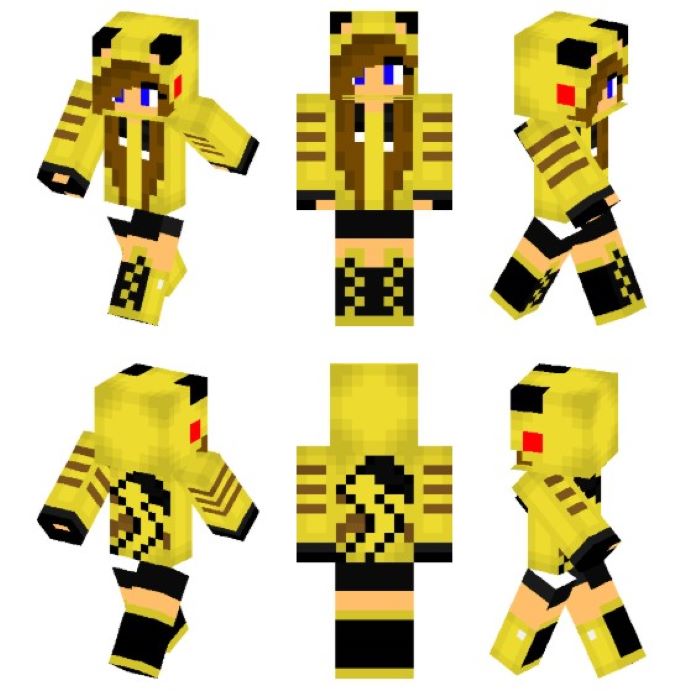 Pika pika!
Yes, we did. It's another Pokémon skin. Don't get too "Game Freaked" out about it though, since it's just a girl in a hoodie. The tail is a bit off, but everything else is very well done, from the drawstrings to the matching shoes!
This skin
Is a great matchup with the Pokémon Trainer skin
Gives you a bright presence
Let's you cosplay in a new and original way for Minecraft
Get the skin here!
3. African American Skin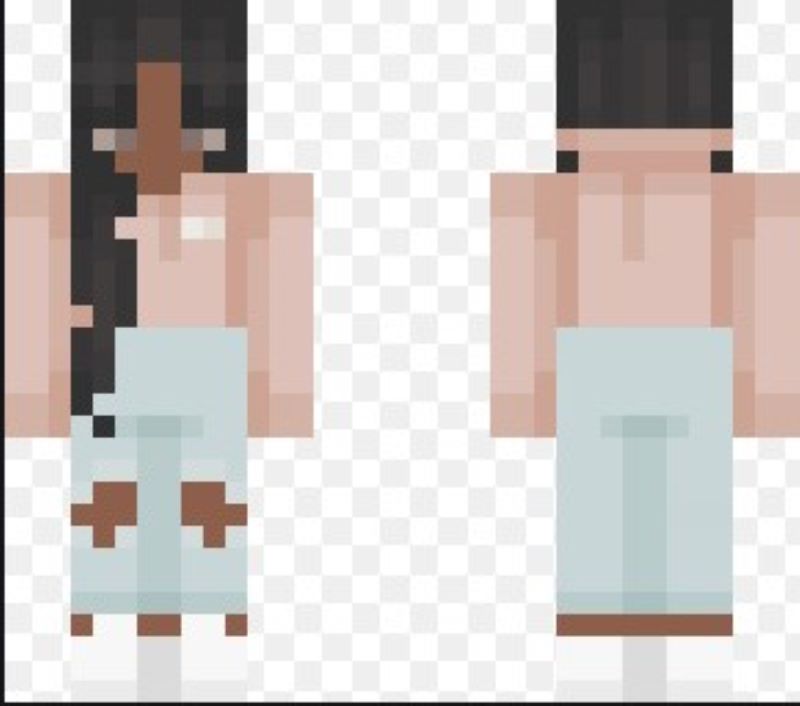 Wonder where she gets her clothes.
FINALLY! One without anime eyes! Skins like that are impossible to find nowadays because everyone who makes skins tries to mix Minecraft with Anime for some reason. And the hair isn't the stereotypical style either. This skin has earned its place in the top three!
This skin
Has regular eyes! For those who want to get away from the norm.
Has a bright, yet pale contrast, which is not common
Has high, really holey jeans, and long sleeves. Strange clothes these kids are wearing nowadays.
Get the skin here!
2. Squid Inkling Girl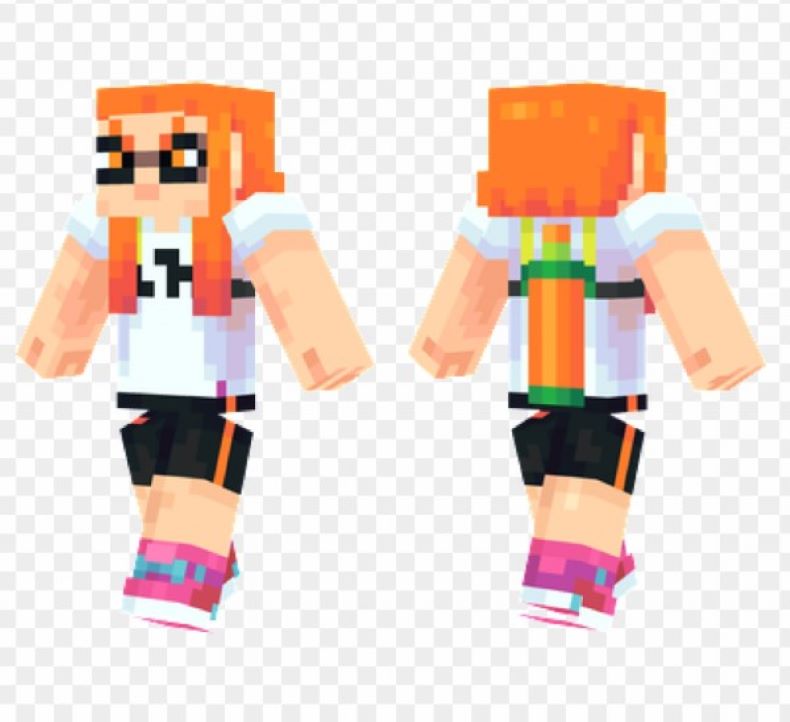 *Immitates Splatoon squid noises*
Quick, hide all the blocks! The Splatoon Girl's gonna paint everything! Maybe that's unrealistic though, seeing as all Minecraft is blocks. (Texture Pack?) And hey, It looks like it has toes!
This skin
Has three-pixel arms
Has a Paint-firing Machine Gun! BAP-BAP-BAP-BAP-BAP!
Has tentacles for hair? Man, some people's OC's are weird…
Get the skin here!
1. Venus Skin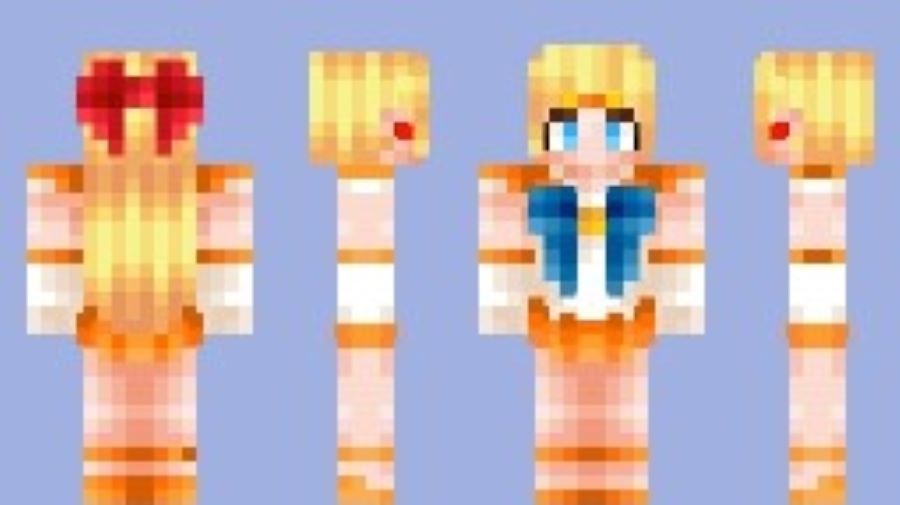 What's this weeks monster-of-the-week, guys?
Okay, this skin can have anime eyes. Sailor Moon is an actual anime, so in this case, the anime eyes are realistic. Even if they are perfect squares now.
This skin
Has a pretty bow and earrings
Has a round-looking belt
Is from an actual anime, unlike most anime-eyed skins.
Get the skin here!
Also Be Sure To Read:
Image Gallery