11 Greatest War Games Ever Made
Updated: 16 Apr 2016 3:31 pm
If you love war games, make sure you check out these 11 games
Growing up in an era of great war movies like Enemy at The Gates, Lone Survivor and Fury, its only fair that we have great war games that will let us experience being in a war.
In this article is an epic mix of medieval, modern, and futuristic war games that will transport us into different war zones, letting us take on the role of commander or soldier, and ultimately becoming war veterans.
11. Battlefield 4
From swedish game developers EA Dice comes an amazing game that will put you in a war zone filled with enemy soldiers, tanks, helicopters, firefights and explosions.
Battlefield 4 was released in 2013 and sold over 7 million copies. Although it has an interesting single player campaign, the game leans strongly toward multiplayer, and focuses on battles which take place in 10 different maps including places like Shanghai city, a tropical island set in the South China Sea, green jungles, and Snowy terrain.
Battlefield 4 is FPS in nature and emphasizes on land, sea, and air combat. Players can take control of jeeps, tanks, helicopters, boats and even fighter jets.
There are over 100 weapons available. The weapons featured in BF4 are real-life weapons used by the US, China, and Russia military. They include assault rifles, shotguns, machine guns, rocket launchers, sniper rifles, handguns, grenades and more.
BF4 is true to its name and puts players in realistic battlefields with lush environments and the resounding echoes of gunshots and explosions with up to 64 players.
The game features a ranking system with 140 different ranks. Players start out with the lowest rank of Recruit and can level up to the highest rank of General.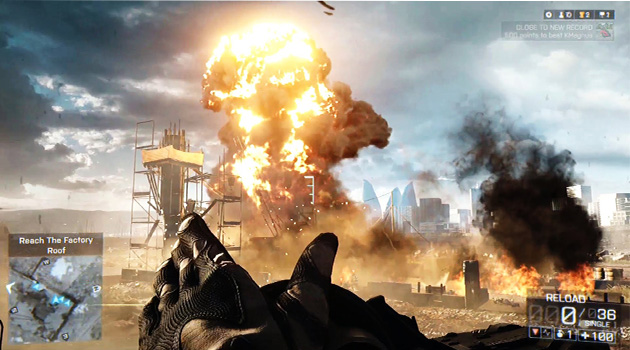 Image Gallery